Iran's Freestyle Team Win Three Bronzes in Spain Grand Prix
TEHRAN (Tasnim) – Iran freestyle wrestling team claimed three bronze medals at Spain Grand Prix.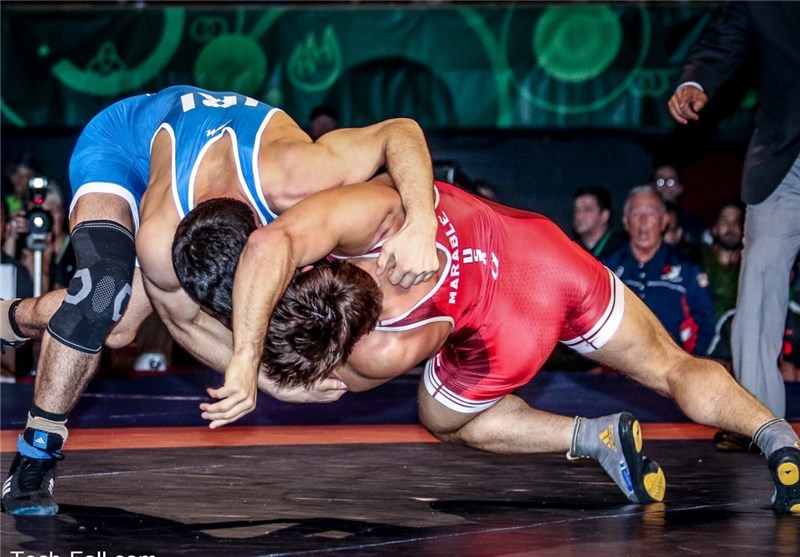 The Iranian wrestling team finished in third place with 36 points in the sports event held in Madrid, Spain.
The United States won the team title with 75 points, a full 30 points ahead of runner-up Spain with 45 points.
GRAND PRIX OF SPAIN
Men's freestyle medalists
57 kg
Gold – Kim Sung Gwon (Korea)
Silver – Rinya Nakamura (Japan)
Bronze – Yun Junsik (Korea)
Bronze – Amin Nouri (Iran)
61 kg
Gold – Daniel Dennis (USA)
Silver – Jozsef Molnar (Hungary)
Bronze – Kim Chang Su (Korea)
Bronze – Mohammad Soltanihaghighi (Iran)
65 kg
Gold – Frank Molinaro (USA)
Silver – Lee Seungchul (Korea)
Bronze – Katal Yeerlanbieke (China)
Bronze – Lee Seung Bong (Korea)
70 kg
Gold – James Green (USA)
Silver – Frank Chamizo (Italy)
Bronze – Cruiz Manning (Canada)
Bronze – Takojima Nobuyoshi (Japan)
74 kg
Gold – David Taylor (USA)
Silver – Carmelo Lumia (Italy)
Bronze – Zhang Chongyao (China)
Bronze – Mark Hall (USA)
86 kg
Gold – Taimuraz Friev (Spain)
Silver – Zahid Valencia (USA)
Bronze – Vahid Shahmohammadiizad (Iran)
Bronze – Aron Caneva (Italy)
97 kg
Gold – Wynn Michalak (USA)
Silver – Hector Rodriguez (Spain)
Bronze – Zhang Zueyi
Bronze – Cristian Rodriguez (Spain)
125 kg
Gold – Nick Gwiazdowski (USA)
Silver – Deng Zhiwei (China)
Bronze – Jose Cuba (Spain)
Bronze – Nathan Butler (USA)
Men's freestyle team standings
1. United States, 75 pts.
2. Spain, 45 pts.
3 Iran, 36 pts.
4. Canada, 35 pts.
5. Korea, 33 pts.
6. Japan, 33 pts.
7. China, 33 pts.
8. Italy, 27 pts.
9. Hungary, 16 pts.
10. South Africa, 9 pts.
(of 18 nations)