German Firms Trying to Regain Position in Iran's Market: Minister
TEHRAN (Tasnim) – Iran's Oil Minister Bijan Namdar Zanganeh said German companies are willing to enter and invest in different sectors of the Iranian market, petro-chemistry and oil industry in particular.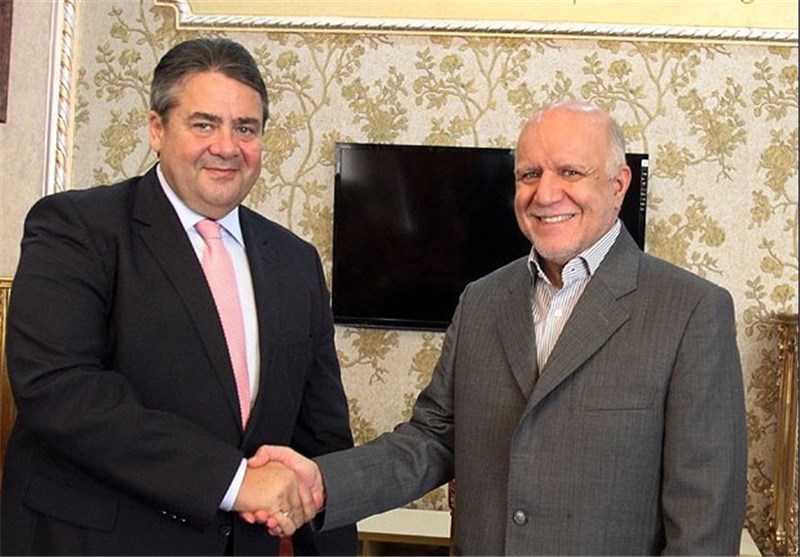 "German firms are interested in participating in different petrochemical and oil sectors (of Iran) as well as in supplying equipment," Zanganeh said on the sidelines of a Monday meeting with the visiting German Vice-Chancellor and Minister for Economic Affairs and Energy Sigmar Gabriel.
The Iranian minister went on to say that German firms had lost their position in the Iranian market in recent years, and "are now trying to regain it."
Iran's oil minister further noted that investments in petro-chemistry, energy storage, optimization of energy consumption, and development of new energies are among various plans on which Iran and German companies will cooperate.
German companies working in the field of equipment and machinery should not focus all their attention on the Iranian market only, Zanganeh recommended, adding that they can tap into Iran's capacity to cover the entire region.
Elsewhere in his remarks, he announced that the fifth Iran-Germany Joint Commission will be held in late summer or early fall after 14 years.
As the first foreign delegation visiting Tehran after the nuclear conclusion, a high-ranking German economic-political delegation headed by Vice-Chancellor Gabriel is in Iran to hold talks with Iranian officials.
Gabriel and his deputies have already held meetings with Iran's energy and oil ministers, and are due to meet with President Hassan Rouhani and Parliament Speaker Ali Larijani as well as the country's ministers of foreign affairs and trade.
The visit came days after Iran and the Group 5+1 (Russia, China, the US, Britain, France and Germany) reached a conclusion on July 14 over the text of a comprehensive 159-page deal on Tehran's nuclear program.
The text of the comprehensive nuclear deal between Iran and the six powers would terminate all nuclear-related sanctions imposed on Iran after coming into force.