Iran Decries Washington's "Empty" Threats
TEHRAN (Tasnim) – Iran's Foreign Minister Mohammad Javad Zarif criticized the US officials for their repeated rhetoric of military action against the Islamic Republic, urging them to put aside the language of threat once and for all.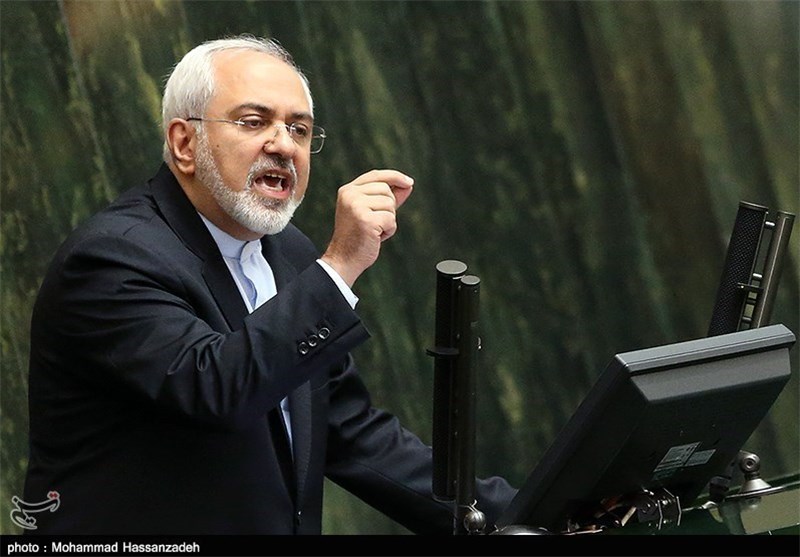 Zarif on Friday responded to the remarks US Secretary of State John Kerry had made at a special meeting of the Council on Foreign Relations in New York earlier in the day.
Commenting on the nuclear negotiations between Iran and the Group 5+1 (Russia, China, the US, Britain, France and Germany) and its final results, Kerry said that US President Barack Obama "has made it pretty clear that Iran will not get a nuclear weapon. He's prepared to use military force, if necessary, in order to prevent that."
In reaction, Foreign Minister Zarif said Mr Kerry is well aware of the "futility of such empty threats" against the Iranian nation.
He said the US officials had better "kick their old habit" (of making threats) and stop the language of force and imposing sanctions against Iran once and for all.
Zarif further highlighted the distinction between the finalized text of a lasting nuclear deal between Iran and the six nations and a resolution that the United Nations Security Council passed afterwards to endorse the document.
The Iranian foreign minister also decried his American counterpart for mixing up the commitments stipulated in the Joint Comprehensive Plan of Action (JCPOA) and the UNSC Resolution 2231.
Zarif made it clear that Iran's support for its regional allies in the fight against the ISIL (Islamic State in Iraq and the Levant) terrorists and extremism "has nothing to do" with the nuclear deal.
He further underlined that Iranian officials, including diplomats and military commanders, all adopt the same policy over different issues.
Following the UNSC resolution on July 20, Iran's Foreign Ministry issued a statement, stressing that the country will continue to do anything to safeguard its independence and sovereignty.
The 11th clause of the Foreign Ministry statement says, "The Government of the Islamic Republic of Iran is determined to actively contribute to promotion of peace and stability in the region in the face of increasing threat of terrorism and violent extremism. Iran will continue its leading role in fighting this menace and stands ready to cooperate fully with its neighbors and the international community in dealing with this common global threat. Moreover, the Islamic Republic of Iran will continue to take necessary measures to strengthen its defense capabilities in order to protect its sovereignty, independence and territorial integrity against any aggression and to counter the menace of terrorism in the region. In this context, Iranian military capabilities, including ballistic missiles, are exclusively for legitimate defense. They have not been designed for WMD capability, and are thus outside the purview or competence of the Security Council resolution and its annexes."