Nasrallah: US to Remain Great Satan
TEHRAN (Tasnim) - Secretary General of the Lebanese Hezbollah Resistance Movement Seyed Hassan Nasrallah voiced the movement's strong opposition to the policies adopted by the US in the region.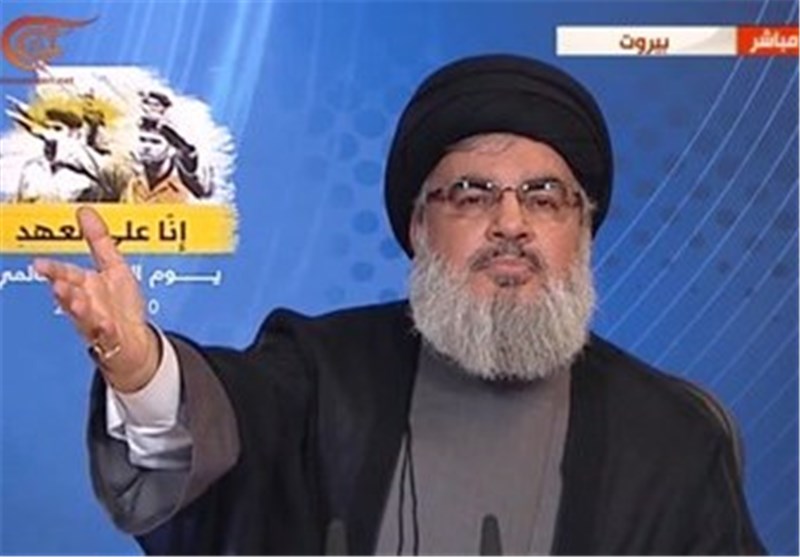 Addressing a cultural ceremony in Beirut on Saturday, Nasrallah pointed to the conclusion of nuclear talks between Iran and the Group 5+1 (the five permanent UN Security Council members plus Germany) in Vienna, Austria, and noted that the deal will leave no impact on the group's opposition to the policies of the US.
"The United States is the Great Satan, and will remain the Great Satan," he underlined.
"We are proud that the United States is punishing us for defending our country..., be it against the Zionist agenda that it has supported and adopted, or the takfiri agenda that it is supporting and adopting."
His remarks came days after the US administration imposed sanctions on three Hezbollah officials and a Lebanese businessman over the group's involvement in Syria.
Nasrallah said that it was the Lebanese government's responsibility to protect its citizens who are being punished by the United States, Daily Star reported.
He also said that Hezbollah had no commercial or financial projects, and takes pride in accepting funds from its ally Iran.
"We do not need WikiLeaks to reveal that we receive money from Iran. We say it out loud and with pride and we are satisfied with the aid we receive from Iran."