Iran Sees Israel behind Recent Sacrilege of Al-Aqsa Mosque
TEHRAN (Tasnim) – Iran said the Zionist regime of Israel supports and approves attacks by extremist Israeli settlers on al-Aqsa Mosque and Palestinian worshipers.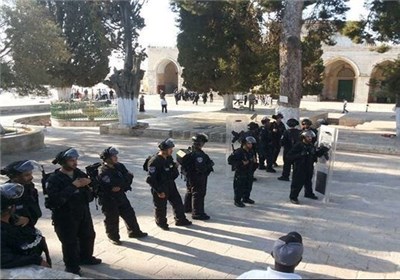 Such provocative measures take place with the approval of Israeli officials, Iranian Foreign Ministry Spokeswoman Marziyeh Afkham said Tuesday, and strongly condemned the Israeli regime's desecration of Al-Aqsa Mosque.
The attacks on al-Aqsa Mosque again show the aggressive nature of the Israeli regime and its violation of the rights of the Palestinian nation, she noted.
He also called for the support of different countries, specially Muslim states, as well as regional and international organizations for the Palestinian nation.
The reaction came after Israelis broke into the al-Aqsa compound and engaged in violent clashes with Palestinians.
Israeli forces stormed the al-Aqsa compound and closed its gates after the clashes erupted between Palestinian Muslim worshipers and Israelis.
Dozens of worshipers were injured and at least six of them were detained by Israeli forces. Many of them also suffered from suffocation due to teargas inhalation.