Iran Looking Forward to Enhanced Ties with France: Rouhani
TEHRAN (Tasnim) – Iranian President Hassan Rouhani on Wednesday called for increased cooperation between Tehran and Paris in the future despite the past ups and downs in the two countries' ties.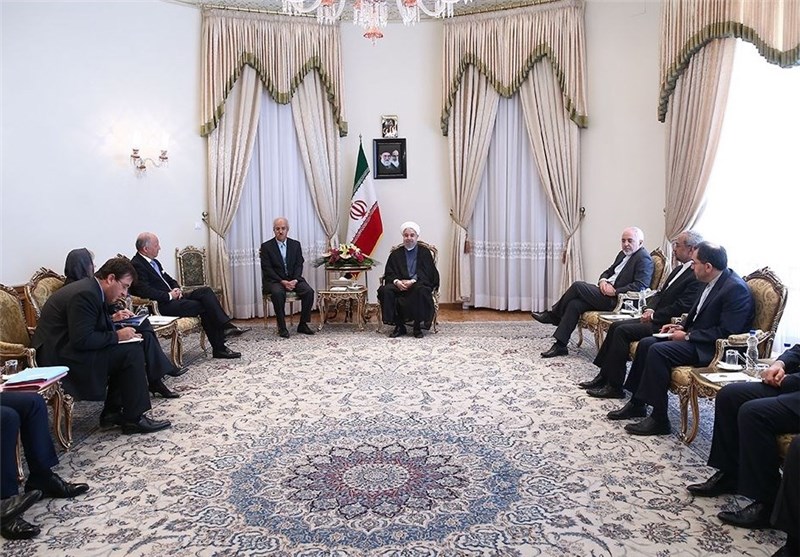 "Tehran-Paris relations during the years after the (1979) Revolution (in Iran) have witnessed ups and downs, but we want to look to the future in our ties, and of course, one should always take lessons from the past," Rouhani said in a meeting with the visiting French Foreign Minister Laurent Fabius in Tehran.
The Iranian president further referred to the history of "very good" economic and political cooperation between the two countries, saying that Iran seeks to restore its past relations with France.
"Iran doesn't want its future ties with France to be focused on economy per se," he added, "but we are looking for the expansion of cultural, scientific, technologic, university, and tourism ties, which can have significant role in the promotion of (bilateral) collaborations."
President Rouhani further appreciated an invitation by his French counterpart for him to visit Paris in November.
Elsewhere in his remarks, the Iranian chief executive touched upon the text of a comprehensive nuclear deal (known as Joint Comprehensive Plan of Action or JCPOA) finalized two weeks ago between Iran and the Group 5+1 (Russia, China, US, Britain, France, and Germany), and urged all the seven countries to do their best to safeguard the deal.
"The two countries (Iran and France) should try to keep the deal strong, because this agreement can be a basis for other bilateral deals and also mutual cooperation between Iran and the European Union," he added.
Rouhani also reaffirmed Tehran's commitment to its obligations according to the JCPOA, but at the same time noted that Iran will stick to its commitments as long as the other side does the same.
Tehran and the Group 5+1 (also known as E3+3 and P5+1) reached a conclusion over the text of a comprehensive 159-page deal on Iran's nuclear energy program.
The comprehensive nuclear deal between Iran and the six powers (JCPOA) would terminate all nuclear-related sanctions imposed on Iran after coming into force.