Iran's Larijani Raps US Inaction on ISIL Threat
TEHRAN (Tasnim) – Speaker of Iran's Parliament Ali Larijani said Washington has emboldened the ISIL terrorist group through its weak measures in the fight against the Takfiri extremist militants.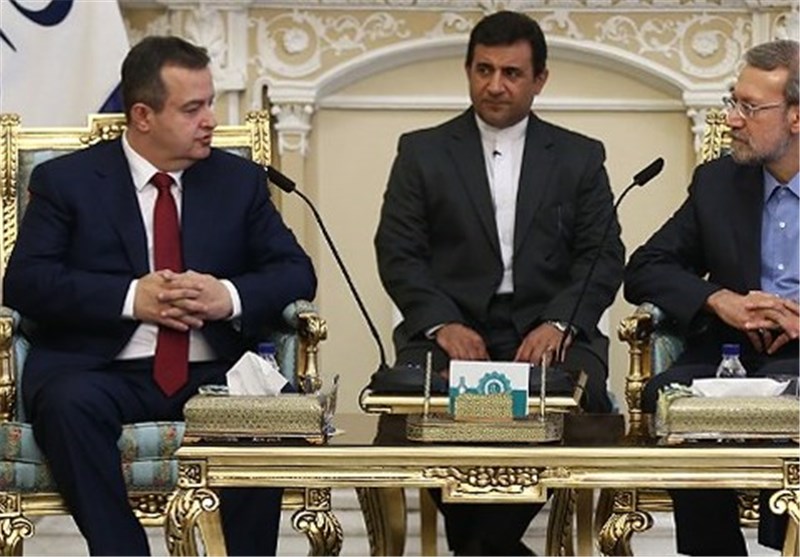 "US seems to be playing with ISIL card in the region," Larijani said in a Monday meeting with the visiting Serbian Foreign Minister Ivica Dacic in Tehran.
A lack of serious efforts by the US in dealing with the inauspicious phenomenon has encouraged them to intensify their crimes, Larijani stressed, warning about the negative impacts of the policy on regional peace and stability.
He further compared the current developments in the Middle East to those of Balkan crisis in the 1990s, saying that both cases were resulted from interventionist policies followed by outside elements.
Dacic, for his part, lashed out at certain superpowers for their interference in different parts of the world, including the Balkans, adding that they sow discord among ethnic and religious groups in a bid to disintegrate big countries.
He also criticized the double-standard policy adopted in dealing with international issues including terrorism, and stressed that it would exacerbate such problems.
The US said on September 5, 2014 that it had created a "core coalition" to battle the ISIL militants in Iraq, calling for broad support from allies and partners around the world.
However, ISIL militants, who are believed to be supported by the West and some regional Arab countries, made swift advances in much of northern and western Iraq.
This is while a combination of concentrated attacks by the Iraqi military and the volunteer forces, who rushed to take arms after top Iraqi cleric Ayatollah Ali al-Sistani issued a fatwa calling for fight against the militants, have blunted the edge of the ISIL offensive.