Iran's FM, Lebanese DM Hold Talks in Beirut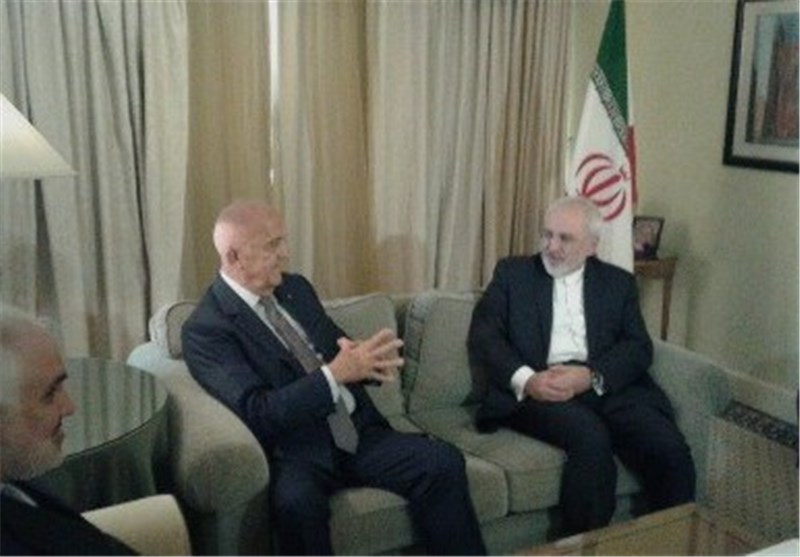 TEHRAN (Tasnim) – Iranian Foreign Minister Mohammad Javad Zarif on Wednesday conferred with the Lebanese Minister of National Defense Samir Moqbel on regional developments, bilateral ties, and issues of mutual interest.
During their morning meeting held in the Iranian minister's place of residence, Zarif highlighted the role Moqbel played in establishing security and stability in Lebanon.
"We are witnessing the establishment of peace and security in Lebanon through solidarity and appreciable efforts of the defense minister."
The Iranian minister, who is in Lebanon as part of his new tour of regional countries, also noted that Beirut's resolve to settle its problems "cannot be vetoed by anyone".
He further called for national unity in Lebanon for the presidential elections based on constructive dialogs and with the help of all countries including Iran.
Moqbel, for his part, praised Zarif's efforts in clinching the "big deal" with world powers over Tehran's nuclear energy program, and expressed the hope that its impact would help resolve the problems of the region, including those of Lebanon.
After his meeting with Zarif and in reply to a question about Iran's offer to equip Lebanon's army, Moqbel stressed that the two sides have not had any talks in this regard, and that "the Lebanese army enjoys perfect equipment."
Earlier in October, Moqbel had paid an official visit to Tehran and held a meeting with Secretary of Iran's Supreme National Security Council (SNSC) Ali Shamkhani.
At the meeting, Shamkhani voiced Tehran's preparedness to provide military equipment for Lebanon and to convey its experiences to boost security in the Arab country and the region.
"Besides its preparedness to offer weapons to the Lebanese army, the Islamic Republic of Iran is ready to convey its experiences for upgrading security in Lebanon and the region and for countering terrorism," Shamkhani said at the time.
Iran's Defense Minister Brigadier General Hossein Dehqan had also pledged assistance to the Arab nation.
"The Islamic Republic of Iran is ready to supply the Lebanese army with necessary equipment and share its experience in countering terrorist and Takfiri groups, with the aim of strengthening the national authority and security of Lebanon," Dehqan announced at the time.