Israel Afraid of Votes, Prefers Terrorism: Iran's President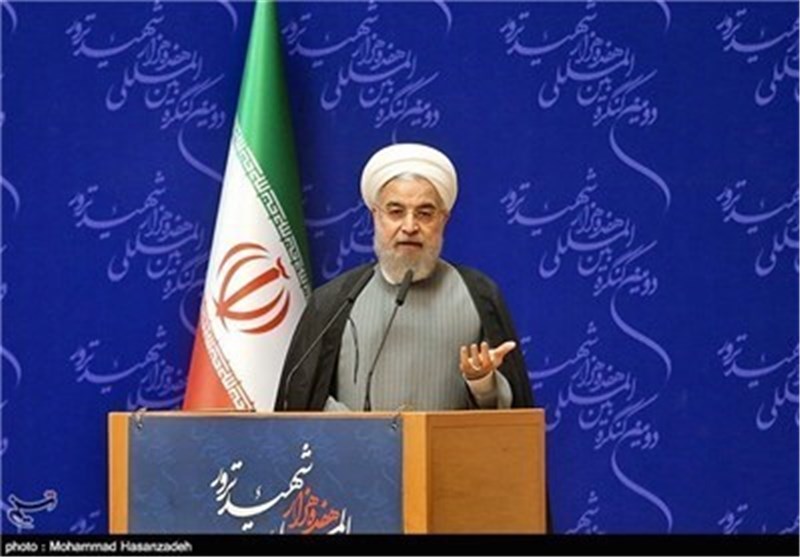 TEHRAN (Tasnim) – The Zionist regime of Israel is afraid of ballot boxes, because it knows that terrorist inclinations, in every shape, lack public support, Iran's President Hassan Rouhani said.
Terrorist activities, carried out either by organizations, regimes or bigots with false beliefs, have one thing in common, that is, lack of public support, Rouhani said in an address to the Second International Congress of 17,000 Iranian Terror Victims, in Tehran on Monday.
"Those (terrorist) individuals and groups have no popularity among the nations," he stressed, adding that they cannot win people's votes, which is why the Zionist regime of Israel is afraid of ballots and prefers intimidation and terrorism.
Terrorists have a great fear of votes and view their demise in ballot boxes, the president stated.
"If the usurper regime (of Israel) accedes to (voting process through) ballot boxes and approves of demands of the Jews, Christians and people of the occupied territories, the public vote will definitely not be in line with its objectives, that is why the terror regime never favors elections (with the participation of all Palestinians)," Rouhani explained.
"This … regime (Israel) has been founded on the basis of intimidation, terror and occupation, and follows the same inhumane path today," he added.
Elsewhere in his remarks, the president reaffirmed Iran's support for counterterrorism efforts.
He reassured the countries that grapple with the scourge of terrorism, such as Iraq, Syria, Lebanon, Pakistan, Afghanistan, and Yemen, of Iran's continued support and backing for the oppressed.
Rouhani further stressed that Iran has been a victim of terrorism backed by Western powers and the Zionist regime of Israel.
Iran has been targeted by many abhorrent terrorist attacks in the past, mainly by members of the terrorist Mujahedin-e Khalq Organization (MKO).
Around 17,000 Iranians have fallen victim to terrorist attacks since the victory of the Islamic Revolution.
A number of Iranian nuclear scientists have also been assassinated in recent years in plots that proved to have been hatched by the Zionist regime of Israel.