Iran's President Urges Europe to Help Refugees
September, 06, 2015 - 17:17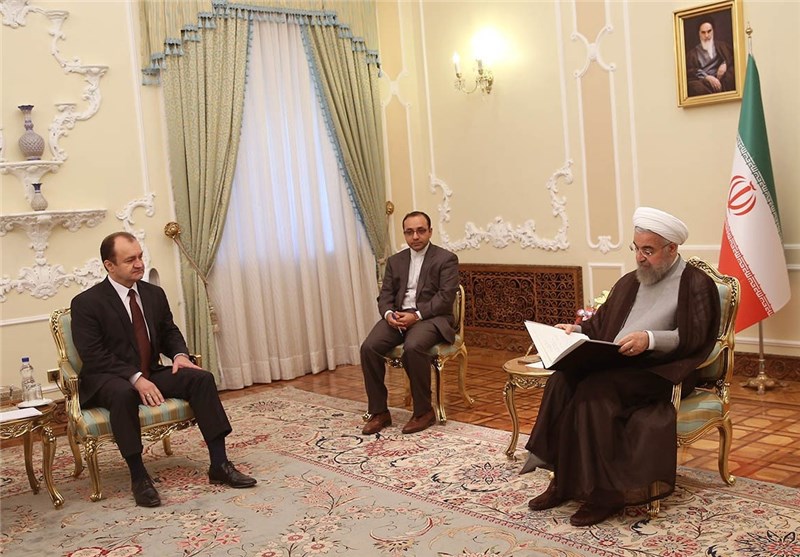 TEHRAN (Tasnim) – Iranian President Hassan Rouhani on Sunday called on European countries to fulfill their humanitarian duty and adopt a positive approach towards the Middle Eastern refugees escaping war and poverty.
In a meeting in Tehran with new Hungarian Ambassador to Iran Janos Kovacs, Rouhani lamented the recent situation of refugees stranded in Europe.
Given the difficulties and predicaments these displaced refugees are facing, it is necessary that governments, especially in Europe, help them as a global humanitarian duty, Rouhani stressed.
He noted that Iran is hosting the largest number of refugees in the world from its neighboring countries and has always treated them well.
"We are pleased that some European countries have adopted positive stances to save the refugees," the Iranian president said, expressing the hope that the entire Europe would compensate for its previous stances and join other countries to receive the displaced people.
Rouhani further referred to the need for seriously confronting terrorism, saying, "All the existing problems including the issue of refugees and displaced people, stem from the danger of violent, extremist, and terrorist groups."
Europe once experienced such conditions after the First World War, and, thus, should be conscious of its historical responsibilities, the president went on to say.
The Hungarian envoy, for his part, called Iran a center of security and stability in the region, and referred to the recent nuclear deal reached between Tehran and world powers as a good model for the global community to resolve international issues.
During the meeting, Kovacs also submitted his credentials to the Iranian president.
Amid the ongoing crisis in European countries where thousands of refugees, mainly escaping the wars in the Middle East, are seeking asylum, Hungary has been widely criticized for its way of handling the flow of refugees to Europe.
A fence on the border with Serbia is one of several measures underway to make it more difficult for refugees to enter and stay in Hungary.
Hungarian Prime Minister Viktor Orban said on Thursday that his country did not want to take in large numbers of Muslims.
"I think we have a right to decide that we do not want a large number of Muslim people in our country," Orban told journalists outside the EU headquarters in Brussels.