Austrian President: Iran Top Regional Power
TEHRAN (Tasnim) – Austrian President Heinz Fischer hailed Iran as the Middle East's top power with a major role in the settlement of the conflicts in the region.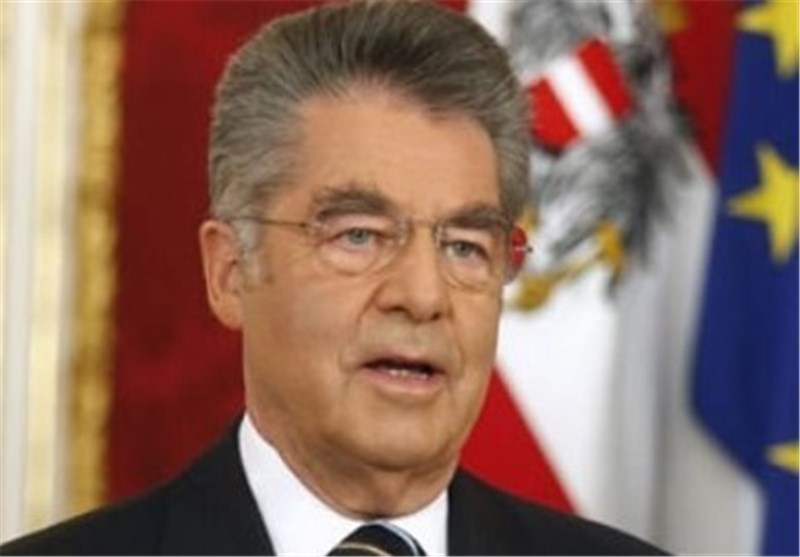 Mr. Fischer is going to visit Iran on Monday at the invitation of Iranian President Hassan Rouhani.
He will be the first head of a western state to visit Iran for many years. Fischer's visit comes against a backdrop of global enthusiasm for closer ties with Iran after finalization of the text of a lasting nuclear deal between Tehran and the Group 5+1 (Russia, China, the US, Britain, France and Germany) in Vienna, Austria.
The Austrian president, whose country played host to many rounds of marathon nuclear negotiations between Iran and the six powers, has written an Op-Ed article in Iranian daily 'Iran' on Monday.
Fischer has shown enthusiasm for the trip to Iran, expressing the confidence that the visit would bring the two Iranian and Austrian nations closer together.
The European president said a high-ranking delegation of Austria's economic, scientific and cultural officials are going to accompany him in the visit.
Elsewhere in the article, Mr. Fischer said the conclusion of diplomatic negotiations over Iran's nuclear program has raised hopes for resolving other issues as well, such as the bloody conflicts in Syria, Iraq and Yemen.
Acknowledging Iran as the top regional power, Fischer said the Islamic Republic can play a major role in the settlement of those issues.
Back on July 14, Iran and the Group 5+1 (also known as the P5+1 or E3+3) reached a conclusion in Vienna on a lasting nuclear agreement that would terminate all sanctions imposed on Tehran over its nuclear energy program after coming into force.
A host of European officials have visited Iran following the conclusion of the nuclear talks.