Amano Confident about On-Time Finalization of Iran Probe
TEHRAN (Tasnim) – Director-General of the International Atomic Energy Agency (IAEA) Yukiya Amano announced after a briefing in Vienna, Austria, that his agency's investigation into Iran's past and present nuclear activities will be finalized by mid-December.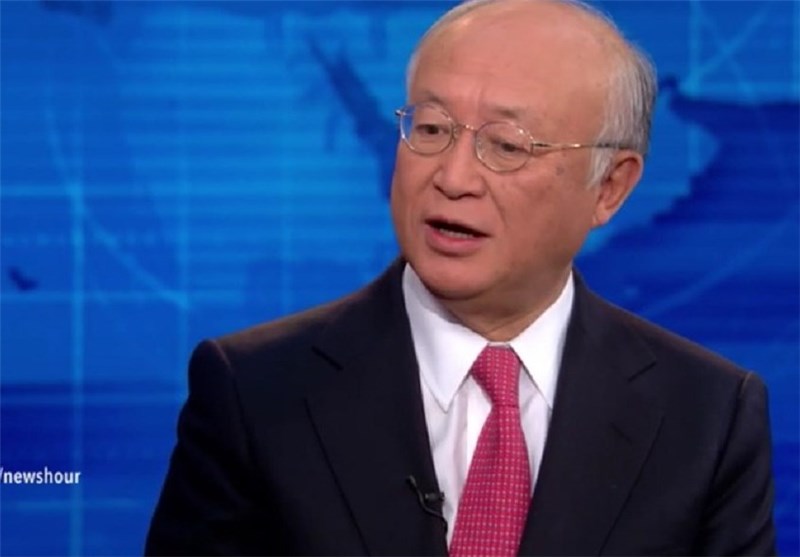 The completion of the probe is one of the key conditions for Tehran to have anti-Iran sanctions terminated.
"I don't have a particular concern that we'll not be able to complete a final assessment by December 15th and our assessment will be factual and impartial," Amano told reporters on Monday.
Amano also said Iran has successfully met its obligations, including an August-15 deadline for sending written explanations on its past activities.
He once again repeated his claims about Parchin, a military site southeast of Tehran, which some world powers insist that should be covered by the IAEA inspections.
Amano said "much work needs to be done" to finish the probe, but reiterated that the investigations will be complete by mid-December, as agreed in th Roadmap signed between Tehran and the UN agency on July 14, Press TV reported.
Today meeting came a few weeks after the IAEA announced that it has received documents from Iran as part of a Roadmap agreement earlier reached between the two sides.
Iran provided the IAEA with its explanation in writing and related documents as agreed in the Roadmap for the clarification of past and present outstanding issues regarding Iran's nuclear program, concluded between the IAEA and the Islamic Republic of Iran on 14 July 2015, a statement by the Agency read.
Amano said on July 14 that the roadmap calls for the IAEA, with Iran's cooperation, to make an assessment of issues relating to possible military dimensions (PMD) of the Islamic Republic's nuclear energy program by the end of 2015.
The IAEA received the documents as it was stated in the Roadmap that "Iran will provide, by 15 August 2015, its explanations in writing and related documents to the IAEA, on issues contained in the separate arrangement mentioned in paragraph 1."
According to the Roadmap, after receiving Iran's written explanations and related documents, the IAEA will review the information by 15 September 2015, and will submit to Iran questions on any possible ambiguities regarding such information.
The Roadmap was signed on the day when Iran and the Group 5+1 (Russia, China, the US, Britain, France and Germany) reached a conclusion on a lasting nuclear agreement that would terminate all sanctions imposed on Tehran over its nuclear energy program after coming into force.