Leader Defines Requirements of Active, Effective Presence in Cyberspace
TEHRAN (Tasnim) – Supreme Leader of the Islamic Revolution Ayatollah Seyed Ali Khamenei on Monday elaborated on requirements of Iran's active presence in cyberspace, and urged young people's proactive role in the field.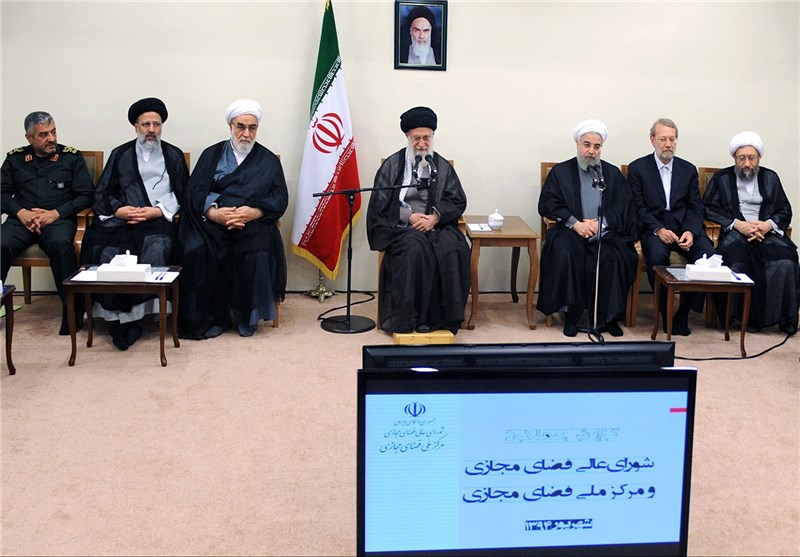 Addressing the chairman and members of the country's Supreme Council of Virtual Space, Ayatollah Khamenei underlined the necessity to produce attractive and authentic Islamic contents in the cyberspace.
Highlighting the cyberspace's influence as an "excellent soft power" on different fields, including culture, politics, economy, life style, faith, religious beliefs and morality, Imam Khamenei called for correct policy-making, wise and coordinated measures to bring, without any further delay, the country out of the existing passivity in cyberspace.
"We should exit the passivity in cyberspace by utilizing young talents and wise measures," Ayatollah Khamenei noted.
In a decree on Saturday, the Leader appointed new members to the Supreme Council of Virtual Space, and outlined the primary policies that members of the council should implement during their 4-year tenure.
Ayatollah Khamenei referred to "defining policy, macro management, planning, making necessary and timely decisions as well as efficient and up-to-date monitoring" in the arena of virtual space as the council's overriding duty.
Imam Khamenei also called for efforts to elevate Iran to a cyber-power at the level of global, influential powers.
The Supreme Council of Virtual Space includes the president –as the head-, the parliament speaker, the judiciary chief, ministers of communication, culture, science, intelligence, education, defense, as well as the Islamic Revolution Guards Corps (IRGC) and police chiefs, among a number of other officials and individuals.
Established in 2012, the council is tasked with defining policy and coordinating decisions regarding the virtual space.