Iran, Austria Mull Enhancement of Trade Ties
TEHRAN (Tasnim) – High-ranking delegations from Iran and Austria, accompanied by the two countries' presidents, discussed ways to expand bilateral trade considering the circumstances ushered in by the conclusion of nuclear talks between Tehran and world powers.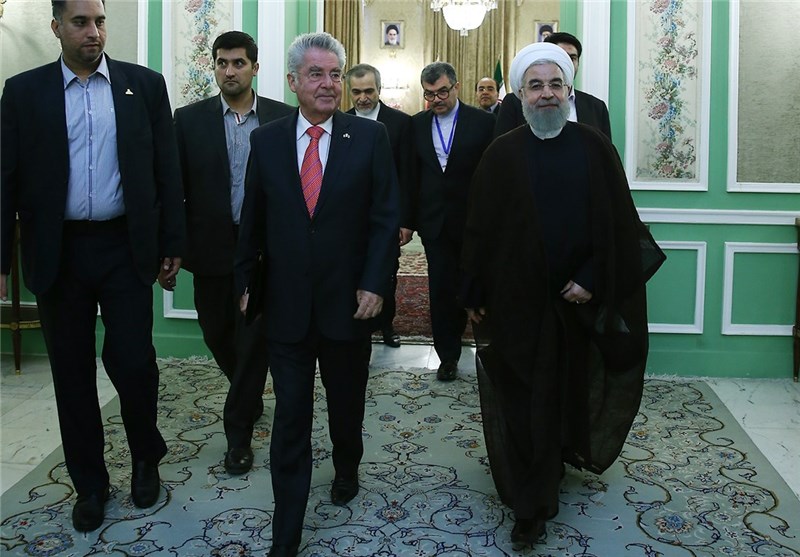 In the meeting held in Tehran on Tuesday, Iranian President Hassan Rouhani and his Austrian counterpart Heinz Fischer stressed the need for formulating a roadmap on promotion of bilateral relations in long-term period until 2020.
President Rouhani highlighted the ample opportunities for investment in Iran in different fields like energy, road and railroad, banking, insurance, tourism and technology.
The Iranian president noted that Tehran-Vienna cooperation should not be confined to economy, and said, "The Islamic Republic of Iran has made remarkable progress in the scientific fields, medicine, new technologies and aerospace, and we are ready to have broad cooperation with Austria in all of these fields."
He also pledged support for the activities of Austria's private sector in Iran.
Fischer, for his part, hailed Iran for its rich history and culture, expressing his country's willingness to strengthen ties with the Islamic Republic in the economic, scientific and cultural arenas.
The Austrian president's visit to Iran comes against a backdrop of global enthusiasm for closer ties with Iran after finalization of the text of a lasting nuclear deal between Tehran and the Group 5+1 (Russia, China, the US, Britain, France and Germany) in Vienna on July 14.
He is the first head of a western state visiting Iran for many years.