Spokeswoman: Persian Gulf Trio Islands Indispensable Part of Iran
TEHRAN (Tasnim) – Iranian Foreign Ministry Spokeswoman Marziyeh Afkham reaffirmed Iran's sovereignty over the three Persian Gulf islands, stressing that these islands are an inseparable part of the Iranian territory.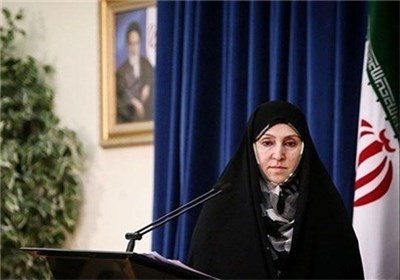 Afkham on Tuesday dismissed the Arab League's statement on the three Persian Gulf Islands of the Greater Tunb, Lesser Tunb and Abu Musa as "meddlesome" and said such stances will have no impact on the existing legal and historical facts.
"These islands are indispensable part of the Iranian land".
The Iranian spokeswoman added that all activities that have so far been undertaken in these islands "were within the framework of sovereign rights."
"The policies of friendship and good neighborliness with all neighboring states as well as non-interference in internal affairs (of neighbors) and mutual respect have always been top on the agenda of the Iranian government's foreign policy," she said.
"Iran has no restriction on expanding and deepening friendly ties and welcomes constructive interaction and all-out cooperation."
The remarks by the Iranian foreign ministry spokeswoman came after the participants of the 144th session of the Arab League ministerial council in Cairo, Egypt, on September 13, issued a resolution asking Tehran to stop "construction of settlements for Iranian citizens on the UAE's three islands and conducting military exercises covering the islands, the territorial waters, the airspace, continental shelf and the economic region belonging to the three islands."
The islands of the Greater Tunb, the Lesser Tunb, and Abu Musa have historically been part of Iran, proof of which can be found and corroborated by countless historical, legal, and geographical documents in Iran and other parts of the world.