Iran's Zarif Discusses Mina Tragedy with Int'l Bodies
October, 01, 2015 - 16:59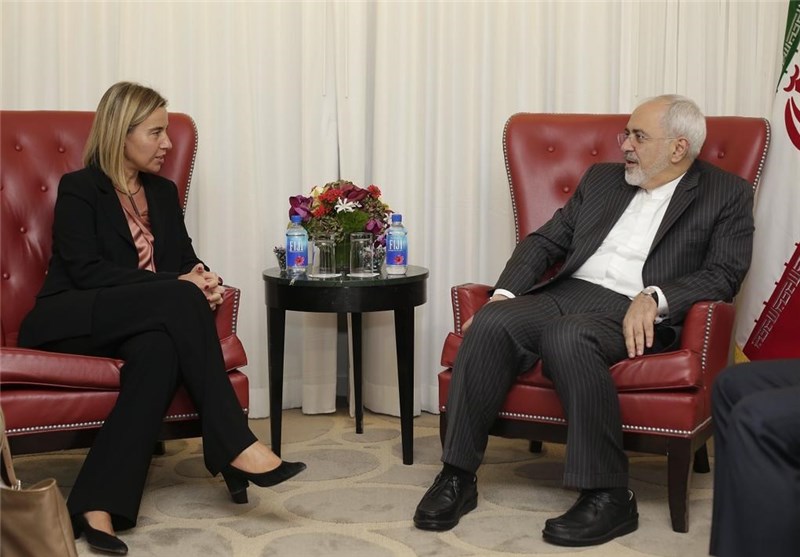 TEHRAN (Tasnim) – Iran's Foreign Minister Mohammad Javad Zarif held talks with heads of a number of international organizations, including the International Committee of the Red Cross (ICRC), on a recent deadly crush in Mina, Saudi Arabia, which killed hundreds of pilgrims, including 464 Iranians.
Zarif on Wednesday continued his diplomatic consultations to draw international attention to the Mina catastrophe and accelerate the process of identifying its victims.
The Iranian foreign minister met with ICRC President Peter Maurer, Secretary-General of the Organization of Islamic Cooperation (OIC) Iyad bin Amin Madani as well as European Union Foreign Policy Chief Federica Mogherini.
The meetings came as Deputy Foreign Minister for Arab and African Affairs Hossein Amir Abdollahian said on Thursday that the presence of a high-ranking delegation headed by Iranian Health Minister Seyed Hassan Qazizadeh Hashemi in Saud Arabia has speeded up the process of transferring and determining the fate of the Iranian victims who went missing after the Mina tragedy.

The delegation arrived in Mecca on Tuesday to help relieve survivals, evaluate the treatment process of the injured nationals and repatriate the bodies of Iranians killed in the incident.
According to Iranian officials, about 4,700 pilgrims were killed in the crush in Mina on September 24 when performing religious rites. With the death toll rising, many pilgrims are still unaccounted for in the incident that marked the worst Hajj disaster in 25 years.
Iranian Hajj and Pilgrimage Organization on Thursday put the final number of Iranian pilgrims killed in the disaster at 464.
The incident came nearly two weeks after tens of Hajj pilgrims were killed in another tragic incident in Mecca.
On September 11, a massive construction crane crashed into Mecca's Grand Mosque in stormy weather, killing at least 107 people, including 11 Iranians, and injuring 201 others.
Saudi authorities have come under fire for their inability to ensure the safety of hundreds of thousands of pilgrims who converge on Mecca every year.