President: Iran Ready for Anti-Terror Cooperation with EU
TEHRAN (Tasnim) – Iranian President Hassan Rouhani voiced the country's willingness to cooperate with the European Union in the battle against terrorism.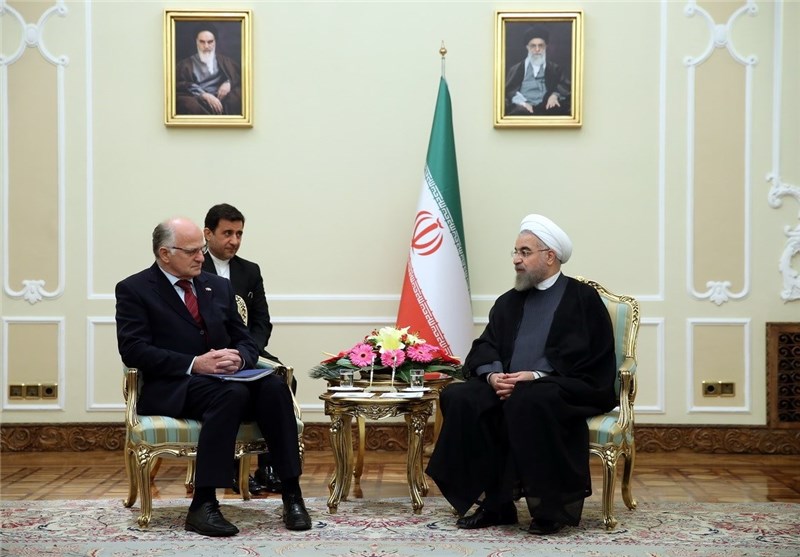 "The Islamic Republic of Iran is ready to cooperate with all countries, including (member states of) the European Union, in fighting terrorism," President Rouhani said Sunday in a meeting with Croatia's Parliament Speaker Josip Leko in Tehran.
He stressed that Iran has assumed a more active and effective role in the fight against terrorism.
Likening acts of terrorism and violence to a "contagious disease" that has even plagued Europe, the Iranian cheif executive said all countries should feel concern about these threats.
He further expressed Tehran's readiness to hold consultations with Zagreb on issues of mutual interest, as well as regional and international developments.
The president also underlined that the conclusion of nuclear talks between Iran and six major world powers has opened the door for the expansion of economic ties between the two countries.
For his part, Leko said Croatia regards Iran as a "major power" with a large economy not only at the regional, but also the international level.
He said Zagreb is resolved to bolster ties with Tehran, noting that such strong relations will contribute to the establishment of regional and international peace and stability.
Leko added that Croatia attaches great significance to Iran's stances towards settlement of regional crises, particularly the conflicts in Iraq and Syria.