Iran's President Praises Efforts to Repatriate Perished Hajj Pilgrims
TEHRAN (Tasnim) – Iranian President Hassan Rouhani on Monday lauded the efforts made to return home the bodies of the Iranian pilgrims who lost their lives in a tragic crush during Hajj in Saudi Arabia.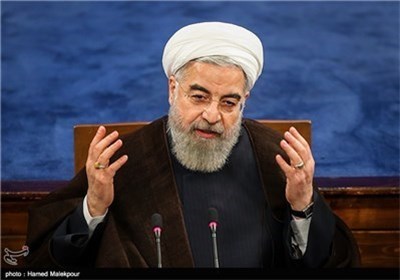 Addressing a conference in Tehran on Monday, President Rouhani acknowledged the endeavors by his cabinet members, including the vice president, health minister and interior minister, to pursue the fate of victims of the September 24 disaster in Mina, Saudi Arabia.
The president said the constant efforts made Iran the first country to receive the bodies of its nationals after the incident, stressing that his administration has made the highest level of endeavors following the catastrophe.
He also admired Supreme Leader of the Islamic Revolution Ayatollah Seyed Ali Khamenei for his "most elegant words and comments" following the Mina incident.
The return of the bodies from Saudi Arabia came a few days after Ayatollah Khamenei sent a clear message to the Saudi government.
Addressing a military ceremony on September 30, Imam Khamenei warned Riyadh that the slightest disrespect for the Iranian pilgrims or its failure to repatriate the bodies of victims will draw Iran's "severe and tough reaction".
Saudi rulers have come under heavy fire for their incompetence in handling the annual Hajj pilgrimage. This year's tragic incident in Mina has claimed 464 lives from Iran alone.
The bodies of 218 Iranian victims have been repatriated so far.