Palestinian Homes in East Al-Quds Razed by Zionist Regime
TEHRAN (Tasnim) - Israeli forces have razed to the ground homes belonging to Palestinians in the East al-Quds (Jerusalem) after Israel's Prime Minister Benjamin Netanyahu ordered the intensification of attacks against Palestinians.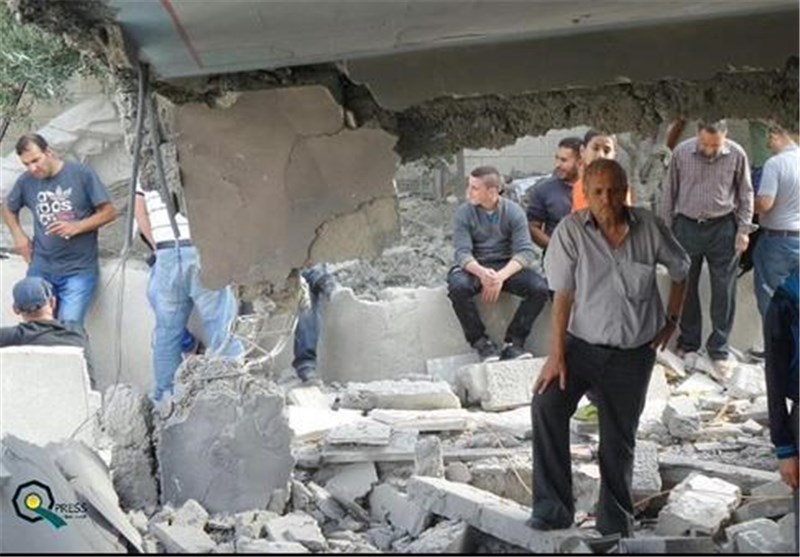 Israeli troops demolished two houses belonging to Ghassan Abu Jamal and Mohammed Jaabis in the Jabel Mukaber district of East al-Quds in the early hours of Tuesday. The two Palestinians had been killed by Israeli forces in November 2014.
The pre-dawn demolitions gutted the houses. Some neighboring structures were also damaged.
Israeli forces condoned off a third home in the Silwan neighborhood of East al-Quds and filled a room with concrete, Press TV reported.
The demolitions came after Netanyahu instructed his cabinet ministers to speed up the demolition of Palestinian homes. Netanyahu also called for the deployment of more troops in East al-Quds and ordered harsh crackdown on Palestinians active on social media.
He further called for heavier fines against the parents of minors throwing stones and Molotov cocktails at Israeli forces.
Also on Tuesday, Israeli forces attacked Palestinian demonstrators protesting Tel Aviv's wave of aggression across the occupied West Bank.
Clashes reportedly erupted near the city of Nablus after Israeli forces stormed several houses there and arrested a number of Palestinians. The Tel Aviv regime forces also stormed villages on the outskirts of the city of Jenin.
The Palestine Red Crescent Society (PRCS) says nearly 500 Palestinians have sustained injuries during clashes with Israeli soldiers and settlers across the occupied Palestinian territories since Saturday.