President Rouhani: Iran, Japan Should Strengthen Bilateral Ties
TEHRAN (Tasnim) – Iranian President Hassan Rouhani said that Tokyo and Tehran should improve their mutual cooperation as "very appropriate" grounds have been prepared for the two nations to that end.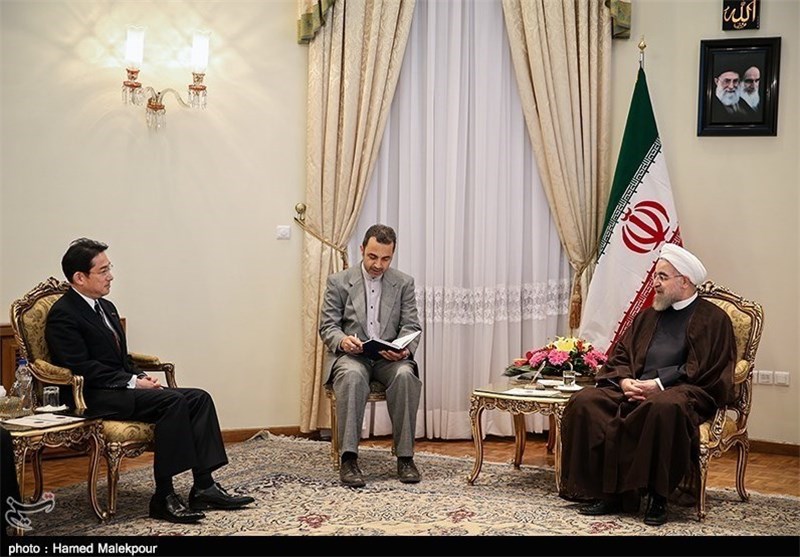 "Today very good appropriate grounds have been prepared for Iran and Japan to improve relations and to make up for previous shortcomings," President Rouhani said in a meeting with the visiting Japanese Foreign Minister Fumio Kishida in the Iranian capital, Tehran, on Tuesday.
Rouhani added that bilateral cooperation can reach an appropriate level considering the political will of the two sides.
He said Tehran and Tokyo can cooperate in different sectors including energy, environment, transportation, dam construction, culture and research.
Considering the existing capacities and the new circumstances, Iran and Japan should work for the expansion of cooperation, which will serve the two nations and the region, Rouhani stated.
He added that the two countries can also make joint investment in auto-making industry for the entire region including the Central Asia and the Caucasus.
The Japanese foreign minister, for his part, said his country is determined to enhance relations with Iran in all fields, particularly economy.
He welcomed a landmark nuclear agreement reached between Iran and six world powers in July and expressed the hope that Iran and Japan would make use of the opportunity created after the agreement to improve economic, political and cultural ties.
Iran and the Group 5+1 (also known as the P5+1 or E3+3) on July 14 reached a conclusion on a 159-page nuclear agreement that would terminate all sanctions imposed on Tehran over its nuclear energy program after coming into force.
Afterwards, the 15-member United Nations Security Council passed a resolution that endorsed the JCPOA.
July 14 was indeed the day of finalization of drafting the text of the agreement.
The second stage, dubbed the adoption day, is when the parties officially announce that the accord has been struck.