Nasrallah Calls New Intifada Only Way to End Israeli Occupation
TEHRAN (Tasnim)- Secretary General of the Lebanese Hezbollah Resistance Movement Seyed Hassan Nasrallah hailed on Sunday Palestinian youth's resistance against Israeli aggression, saying new intifada is the only hope the Palestinians have of ending the Israeli occupation.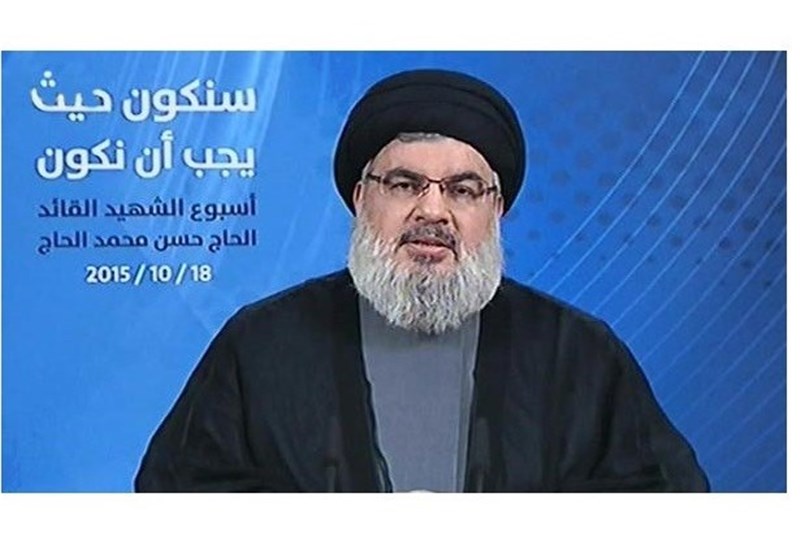 Touching on the events in Occupied Jerusalem (Quds) and Gaza, Nasrallah gave his full support for the Palestinian people who have been clashing with Israeli security forces for weeks, in what is seen as the worst violence to ignite in the country in years.
"This new intifada is the only hope the Palestinians have of ending the (Israeli) occupation...Today we are seeing a new generation who is willing to sacrifice their lives for Jerusalem, and use knives to fight," Nasrallah said during a ceremony marking one week after the death of Hezbollah fighter Hassan Muhammad al-Hajj, in the village of Al-Louaizi in South Lebanon's Jezzine province, The Daily Star reported on Sunday.
He also called on all people in the region to stand by the Palestinians.
Elsewhere, Nasrallah vowed to carry on with his party's battle against extremist groups in Syria, describing the conflict that has swept through the war-torn nation and Iraq as an "extremist-Zionist conspiracy."
"With all due respect to our (former) leaders, martyrs and fighters, the resistance today does not only rely on a leader here or there," Nasrallah said.
"For four years we have been fighting the 'extremist' plan and have sacrificed martyrs... If it wasn't for the resistance in Iraq, Syria and Lebanon, where would the region be now?" Nasrallah rhetorically asked, warning that if groups such as ISIL had completely taken over these countries, the fate of the people would have been similar to those in Mosul, Salah el-Din and Raqqa, all in Iraq and Syria.
ISIL launched a scathing attack on the aforementioned regions last year and overran the areas, after Iraqi and Syrian government forces pulled out, executing and forcing residents out of their homes.
Nasrallah reiterated that the battle against ISIL and other insurgent groups is not over, and is instead an "open battle."