Eurosceptics Claim Victory in Landmark Poland Election
October, 26, 2015 - 10:31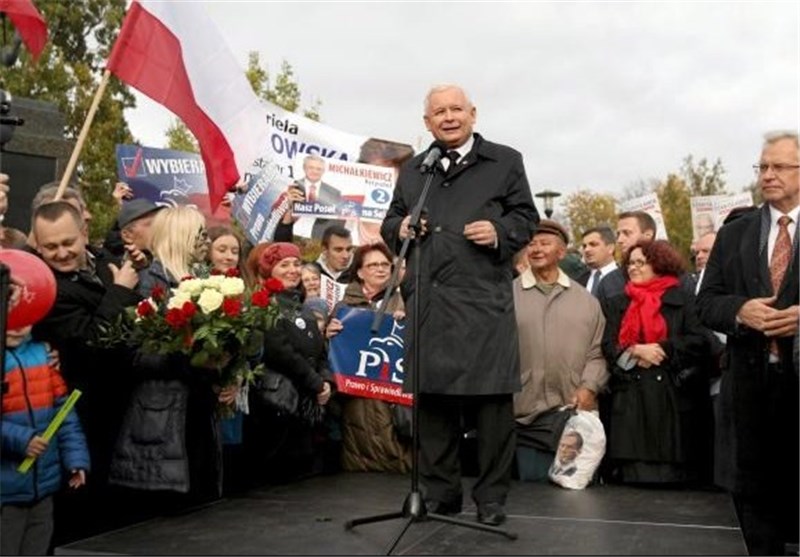 TEHRAN (Tasnim) – Poland's eurosceptic Law and Justice party (PiS) claimed victory in a watershed election that risks putting the ex-communist state on a collision course with key European Union allies.
Run by Jaroslaw Kaczynski, the twin brother of Poland's late president Lech, PiS secured 38 percent of the vote on Sunday, enough to govern alone and well ahead of the incumbent, staunchly pro-EU Civic Platform (PO) at 23.4 percent, said pollster IPSOS.
If the exit poll is correct, the victory by PiS would be the biggest in terms of seats by a single party since Poland held free elections after shedding communism in 1989 -- marking a decisive swing to its brand of social conservatism mixed with left-leaning economics in the country of 38 million people, Reuters reported.
It would also be the first time that the socialist grouping that grew out of the pre-1989 communist party failed to win seats in parliament.
A triumphant Kaczynski, whose party immediately signalled plans to reap new revenues from next year with a tax on bank assets, declared victory.
"We will not kick those who have fallen. ... We need to show that Polish public life can be different," Kaczynski told jubilant supporters at his party headquarters in central Warsaw.
Prime Minister Ewa Kopacz of PO conceded defeat.
Poland has seen its economy, the largest in ex-communist central Europe, expand by nearly 50 percent in the last decade, with the pro-market Civic Platform focusing on trying to make the most of EU aid and combining green field investment with fiscal prudence.
But pockets of poverty and economic stagnation remain, and PiS was able to exploit growing frustration in some areas that the spoils of economic success are not more evenly shared.
Distrustful of the EU and an advocate of a strong NATO stance in dealing with Moscow, PiS opposes joining the euro zone any time soon and promises more welfare spending on the poor.
It also wants to enshrine more Roman Catholic values in Polish law, reflecting the party's deeply socially conservative stance.
Two new parties appeared to have won seats in parliament. The liberal, pro-market Nowoczesna, led by former World Bank economist Ryszard Petru, was seeing winning 7.2 percent of the vote.
Kukiz'15, an anti-establishment grouping led by rock star Pawel Kukiz, looked set to secure 9.1 percent of votes.
The election of PiS likely means that Poland will join ranks with Hungary and Slovakia in opposing relocation of migrants from the Middle East and North Africa, deepening divisions in the EU, where Germany's Angela Merkel in particular has advocated a more open approach.
The migrant crisis has led to a boost in support for hard-right parties in countries including Sweden and the Netherlands.
On the campaign trail, Kaczynski and other PiS leaders sought to tap into nationalist sentiment tied to fears over immigration, particularly among young voters.