Iran, UNICEF Ink Cooperation Agreement
November, 09, 2015 - 11:06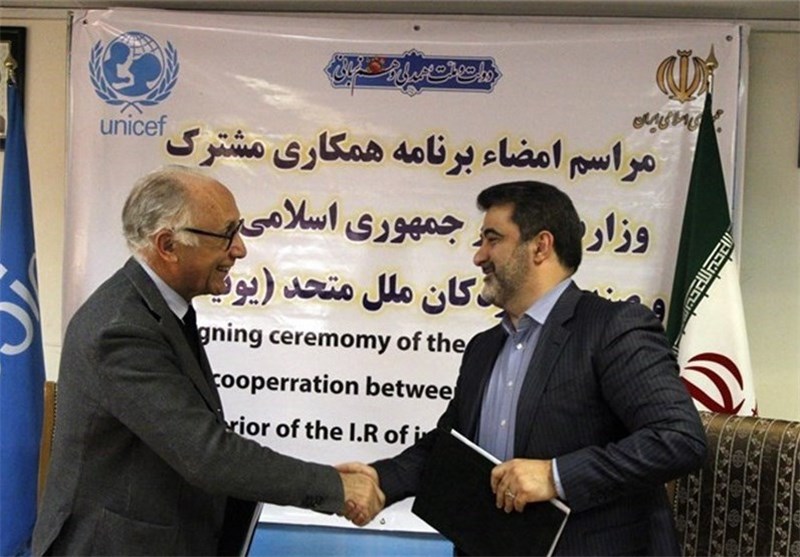 TEHRAN (Tasnim) – Iran's Interior Ministry and the United Nations Children's Fund (UNICEF) signed an agreement on a one-year plan for cooperation in different fields.
The agreement was signed between Iran's Deputy Interior Minister Babak Dinparast and UNICEF envoy in Iran, Ezio Gianni Murzi, in a ceremony in Tehran on Sunday.
The plan for cooperation was devised after a year and a half of studies, the Iranian official said, describing it as a stride in the settlement of children's problems and acceleration of the human development process in Iran.
The agreement pursues a range of purposes, including better transportation safety measures, lowering the child fatality rate, supporting the disabled children, promotion of child and mother-friendly spaces, among others.
According to Dinparast, achieving those goals in the project requires a $245,000 fund and will take more than a year to complete.
Murzi, for his part, praised Iran for its efforts to carry out projects on supporting children.
Iran is a leading country in the region in the field of supporting children and improving the life standards of families, he added.
The UNICEF is a UN body that provides long-term humanitarian and developmental assistance to children and mothers in developing countries.