Spain: Gov't Files Legal Challenge to Catalan Secession Bid
TEHRAN (Tasnim) – The Spanish government on Wednesday filed a challenge against the Catalan regional parliament's decision to set up a road map for independence from Spain by 2017.
November, 11, 2015 - 17:10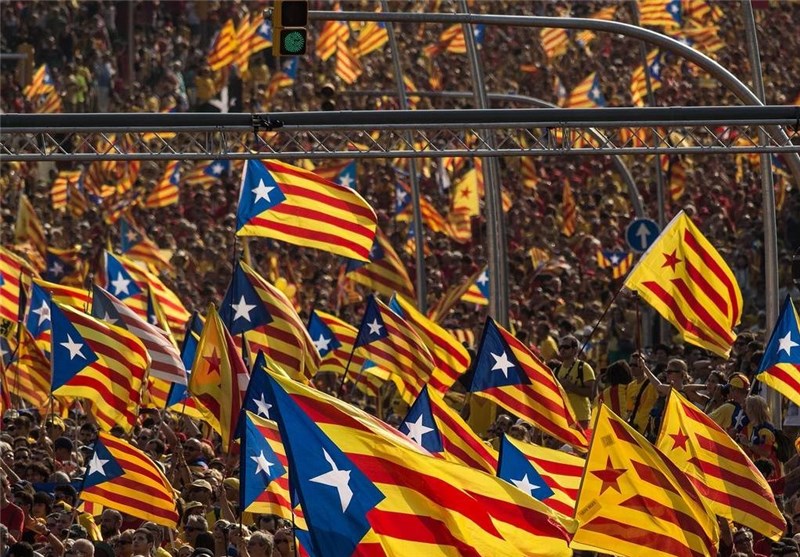 State lawyers lodged the appeal before the Constitutional Court, with the government calling on the tribunal to suspend the Catalan parliament's decision while it is being studied.
It also wants the court to warn Catalan officials against taking any further steps in the secession process, the Associated Press reported.
The court was to meet later Wednesday and is expected to rule quickly.
The secession resolution approved Monday in the Barcelona-based regional parliament gives the economically powerful region's incoming government a month to begin work on a new Catalan constitution, which would be voted on mid-2017, and begin establishing tax-collecting and social security systems.
It also exempts the regional administration from having to heed Spanish institutions, including the Constitutional Court. However, under a new law, the court is empowered to suspend public officials who ignore its rulings.
The resolution was pushed through by the pro-independence "Together for Yes" alliance and the far-left CUP group, which between them won 72 seats in the 135-deputy regional parliament in September elections.
The two are in talks to form a new government to move the independence process forward but the CUP has refused to support the "Together for Yes" alliance's presidential candidate, Artur Mas, who has held the region's top political post for years.
Mas lost an initial investiture vote Tuesday. He has a second opportunity Thursday.
The regional parliament has until Jan. 9 to form a government or a new election must be called.
Polls show that most Catalans support a referendum on independence but are divided over whether to break centuries-old ties with the rest of Spain.
The region of 7.5 million inhabitants represents nearly a fifth of Spain's economic output.