Hundreds More Flights Grounded as Lufthansa Strike Enters Sixth Day
TEHRAN (Tasnim) – Hundreds more flights were grounded Thursday when a strike by Lufthansa's main cabin crew union entered its sixth day, with no sign of compromise to resolve the longest walkout in the history of the German airline.
November, 12, 2015 - 15:53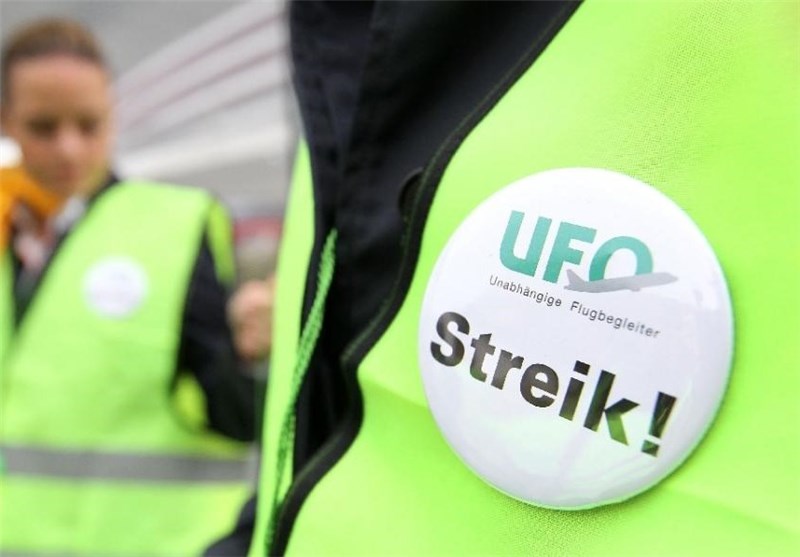 Cabin crew staff started a series of strikes at the airline's core Lufthansa brand last Friday to fight for an improved pension offer for employees.
Lufthansa, which says it needs to cut costs in order to compete with budget rivals and leaner Persian Gulf carriers, has said it is open to mediation, provided the union calls off the strikes.
Lufthansa cancelled 933 flights Thursday, affecting 107,000 passengers, and equivalent to around one-third of the daily flights usually operated by the airlines within the group. It has said the strike is costing it at least 10 million euros ($10.7 million) a day, Reuters reported.
The strikes forced even Lufthansa boss Carsten Spohr to take a flight with rival Air Berlin from Berlin to Munich this week.
If Lufthansa fails in a court appeal to at least force crews based in the city of Duessedorf back to work, it seems likely a similar number of flights could be cancelled Friday.
The court, which rejected a bid by Lufthansa for an injunction Wednesday, will hear the appeal at 1430 GMT.
The union plans to end the week of strikes by calling on all Lufthansa Group employees to join a demonstration at Frankfurt airport Friday from midday, union head Nicoley Baublies told Reuters.
"If there is no movement from management then maybe we will have to say that there will be more strikes," Baublies said.
Lufthansa has condemned the strikes as counter-productive.
"With this strike, they're only making it harder for us all," personnel head Bettina Volkens said in an interview with best-selling daily Bild. "The only ones that are happy about the situation are our rivals."
In total, the walkouts have now forced the cancellation of almost 4,000 flights, disrupting the travel of more than 430,000 Lufthansa customers.