Tears, Candles in Beirut as Stricken Suburb Starts Burying Its Dead
TEHRAN (Tasnim) – As the dust of Thursday's twin suicide bombings in Lebanon settled, victims' families paid their respects to the deceased, as funeral processions made their way through Beirut's southern suburb of Burj al-Barajneh.
November, 14, 2015 - 13:05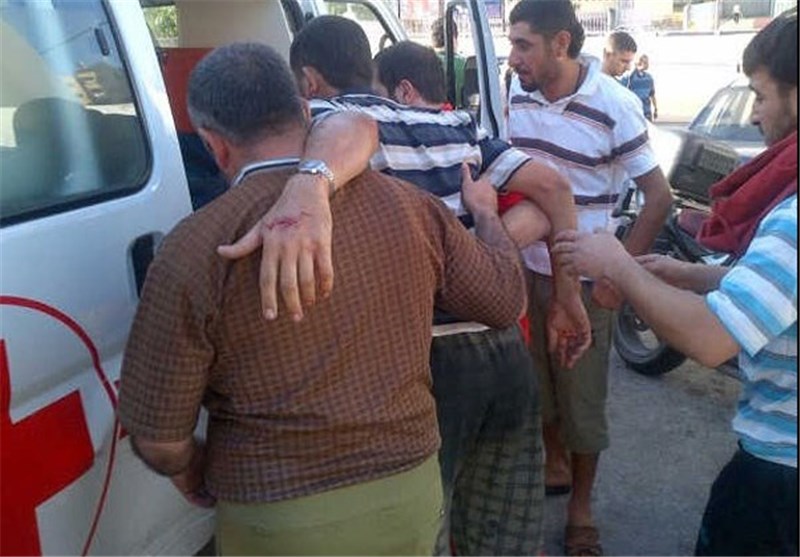 "Death is easy in this place ... it is the living that are destined to suffer," an Amal Movement security officer, who identified himself by his nom de guerre, Abu Haydar, told The Daily Star.
He stood guard over the grave that would eventually house five of the blast's victims. Sami Houhou, Rawan Awad, and Hussein Hujeiri were laid to rest Friday.
"My son, you were a gentleman, you were decent, you were a groom, why did you leave me ... I have nothing to say," Houhou's mother wailed, after the final blocks of cement were laid over her son's grave.
"Please God, if you have any mercy, kill me now and spare me this pain," she screamed, before clawing at her face. Family members rushed to her aide, wiping the blood from her eyes and forcefully sitting her down. They placed a cup of water in her violently shaking hands, a tenth of which made its way to her mouth.
Houhou's family then departed and headed toward their home, where they welcomed hundreds of visitors who came to pay their respects. "I do not know them personally, nor did I know Sami," Mohammad, one of the visitors, told The Daily Star. "But in a crisis, we are all one family, and I am here to provide my support."
Three funeral processions made their way toward the neighborhood graveyard, and people jostled as they attempted to touch the caskets, if only for a brief second. The caskets were held high by at least a dozen men. Trailing them, sobbing women wailed and cried.
They traversed rivers of sewage as they made their way to the graveyard. Above, human flesh still clung to the neighborhood's buildings and made its presence known by the grim odor it emitted. Mothers pulled their children toward their chests, and even the most hardened of men looked away.
One by one, funeral processions made their way from the hospitals that had housed the mangled victims toward Burj al-Barajneh's cemetery.
The cemetery lies behind the neighborhood's husseiniyah, the original target of the suicide bombers.
After Houhou's family departed, Abu Haydar maintained his vigil, keeping a watchful eye for the next procession, bearing Hujeiri's casket.
As soon as Hujeiri's procession appeared, Abu Haydar, a Lebanese civil war veteran, sobbed despite himself, his eyes turning red as he attempted to hold back his tears.
Abu Haydar tried to mask his sobbing with coughs, but failed, and eventually gave in to the grief, collapsing to the ground.
Hundreds of activists later gathered at the site of the first blast to lay candles and pay their respects.
Residents said that the shoes that were strewn about were due to the explosion occurring next to a clothing shop. The blood, still visible in some of them, told a different story.