Erdogan Challenges Accusers to Prove Turkey Buys Energy from ISIL
TEHRAN (Tasnim) – President Recep Tayyip Erdogan denied that Turkey bought oil from the Islamic State in Iraq and the Levant (ISIL) terrorist group, saying if accusers prove such a claim, he would resign from the government.
November, 27, 2015 - 13:05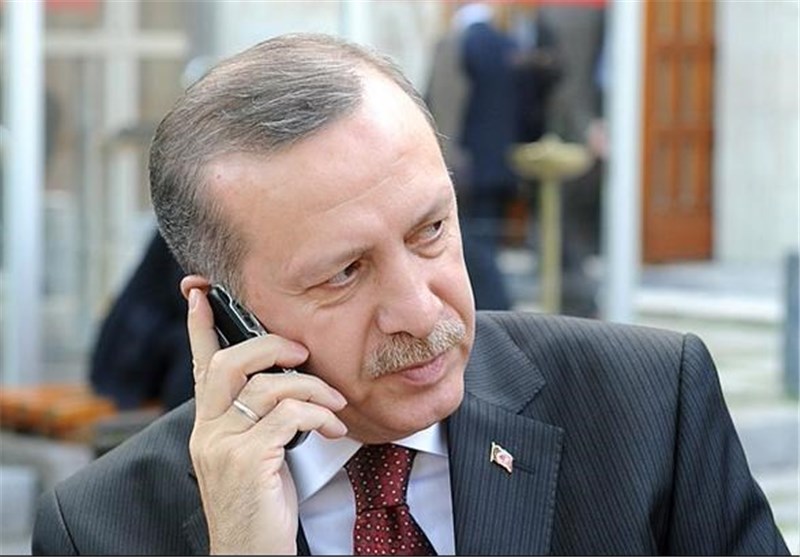 "Shame on you - those who claim we buy oil from Daesh (ISIL) are obliged to prove it. If not, you are a slanderer," Erdogan said, speaking to officials in the capital on Thursday.
"We have never, never had this kind of commercial relationship with any terror organisation. They have to prove it, and if they can, Tayyip Erdogan will leave office," he also said in a Thursday interview with France 24 TV.
Russian President Vladimir Putin on Thursday said there was "no doubt" that oil from "terrorist-controlled" territory in Syria was making its way across the border into Turkey.
The accusations came after Turkey shot down a Russian fighter jet on its southern border with Syria, bringing Ankara's relations with Moscow to their worst level in recent memory, Al Jazeera reported.
"We see from the sky where these vehicles (carrying oil) are going," Putin said after the incident. "They are going to Turkey day and night."
Speaking in the Thursday meeting with local officials, Erdogan shot back at Putin saying, "Daesh sells the oil they drill to (Syrian President Bashar) al-Assad. To Assad. Talk this over with Assad you support."
Erdogan also said Turkey was taking precautions to stop oil smuggling at its borders, a key source of revenue for ISIL.
The president added the places from where Turkey buys its oil and natural gas were well known, citing Russia and Iran as well as Azerbaijan and northern Iraq.
Erdogan's remarks come as Turkish social media has posted photos of the Turkish president's son Necmettin Bilal having dinner in an Istanbul restaurant with an alleged ISIL leader, who it is claimed participated in massacres in Syria's Homs and Rojava, the Kurdish name for Syrian Kurdistan or Western Kurdistan.
There is speculation Bilal Erdogan is directly involved in the black market oil business with the terrorist group.
Last October, the US Under-Secretary for Terrorism and Financial Intelligence David Cohen said the ISIL was earning $1 million a day from oil sales.
"According to our information, as of last month, ISIL was selling oil at substantially discounted prices to a variety of middlemen, including some from Turkey, who then transported the oil to be resold. It also appears that some of the oil emanating from territory where ISIL operates has been sold to Kurds in Iraq, and then resold into Turkey," he said.
According to Russian Prime Minister Dmitry Medvedev, the middlemen in Turkey are not only entrepreneurs, but are Ankara officials. Turkey is protecting ISIL because of "direct financial interest of some Turkish officials relating to the supply of oil products refined by plants controlled by ISIL."