Iran's Army Deploying Drones to Ensure Security of Arbaeen Pilgrims: Commander
November, 28, 2015 - 15:32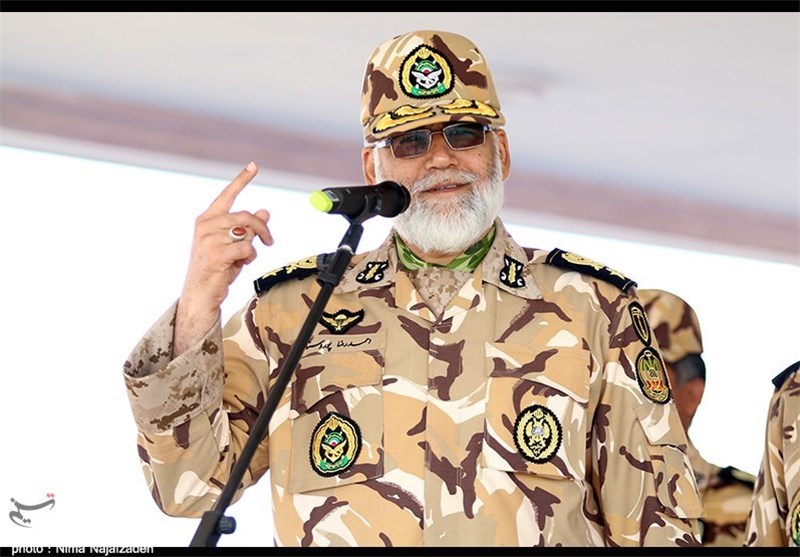 TEHRAN (Tasnim) – The commander of the Iranian Army Ground Force said his forces are keeping a close watch on suspicious activities even beyond the country's borders and that they are deploying drones to ensure the security of pilgrims visiting neighboring Iraq for Arbaeen.
"Our borders are fully secure and anti-security movements will be nipped in the bud by the Armed Forces of the Islamic Republic of Iran," Brigadier General Ahmad Reza Pourdastan said during a visit to the Mehran border crossing in the western province of Ilam on Saturday.
With the cooperation of the Islamic Revolution Guards Corps (IRGC), the Iranian Army and the Law Enforcement Force, the country's borders are fully secure, the commander noted.
He further pointed to a massive influx of Iranian pilgrims to Iraq to participate in rituals marking Arbaeen on December 2 and said, "The Army guarantees the security of pilgrims using drones and air patrols."
Arbaeen, which is one of the largest religious gatherings in the world, comes 40 days after Ashura, the martyrdom anniversary of the third Shiite Imam, Imam Hussein (AS).
Each year, a huge crowd of Shiites flock to Karbala, where the holy shrine of Imam Hussein (AS) is located, to perform mourning rites.
Last year, around 20 million pilgrims from all over the world gathered in Karbala to attend the mourning ceremonies marking Arbaeen.
On Thursday, Head of Iran's Hajj and Pilgrimage Organization Saeed Ohadi said that Iraq had by then given about 1.3 million Iranian applicants visas for going on pilgrimage to the Arab country's city of Karbala to perform mourning rituals marking Arbaeen.