Syrian Victories Achieved Thanks to Iran, Russia: President Assad
November, 29, 2015 - 19:15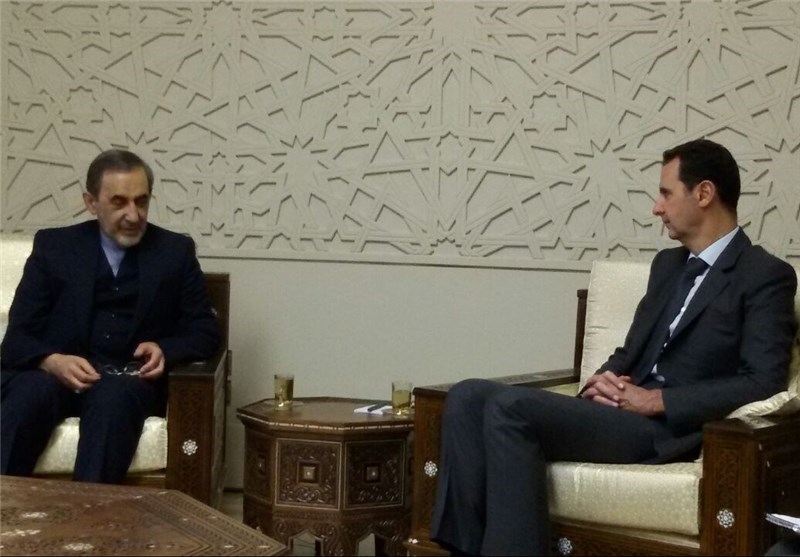 TEHRAN (Tasnim) – The Syrian military continues to achieve victories on the battlefield against Takfiri terrorists across the Arab country thanks to the support of two "friendly" countries, namely Iran and Russia, Syrian President Bashar Assad said Sunday.
The recent victories by the Syrian army and volunteer forces against the Takfiri terrorists operating in the Arab country were achieved with the support of "friendly" and "allied" states, particularly Iran and Russia, President Assad said in a Sunday meeting with visiting International Adviser to Supreme Leader of the Islamic Revolution Ali Akbar Velayati.
The Syrian president also expressed his gratitude for the prudence of Supreme Leader of the Islamic Revolution Ayatollah Seyed Ali Khamenei and his support for Damascus.
During the meeting, both sides attached great importance to Tehran-Damascus strategic ties for promotion of resistance in the face of Western plots.
Syrian President's Political and Media Advisor Bouthaina Shaaban and Iranian Ambassador to Damascus Mohammad Reza Sheibani were also present at the meeting.
Velayati, who is also head of the Strategic Research Center of Iran's Expediency Council, arrived in the Syrian capital on Sunday to hold talks with President Bashar Assad and a number of other senior officials of the Arab country.
He is scheduled to discuss various bilateral and regional issues during his visit to the war-torn country.
Syria has been gripped by civil war since March 2011 with Takfiri terrorists from various groups, including the ISIL, currently controlling parts of it.
According to the United Nations, more than 250,000 people have been killed and one million wounded during the conflict.
In the meantime, Iran has remained a close ally of Syria and supports its legitimate government in the face of foreign-backed militancy.
Back in June, Iranian President Hassan Rouhani hailed the resistance of the Syrian government and people against foreign-backed terrorist groups in the Arab country, saying that Tehran is determined to side with Damascus to the end of the crisis.