Obama Says He Supports Turkey's "Right to Defend Itself"
TEHRAN (Tasnim) - US President Barack Obama said on Tuesday that he supports Turkey's right to defend itself following the downing of a Russian warplane by Turkish jets along the Syrian border last week.
December, 01, 2015 - 16:02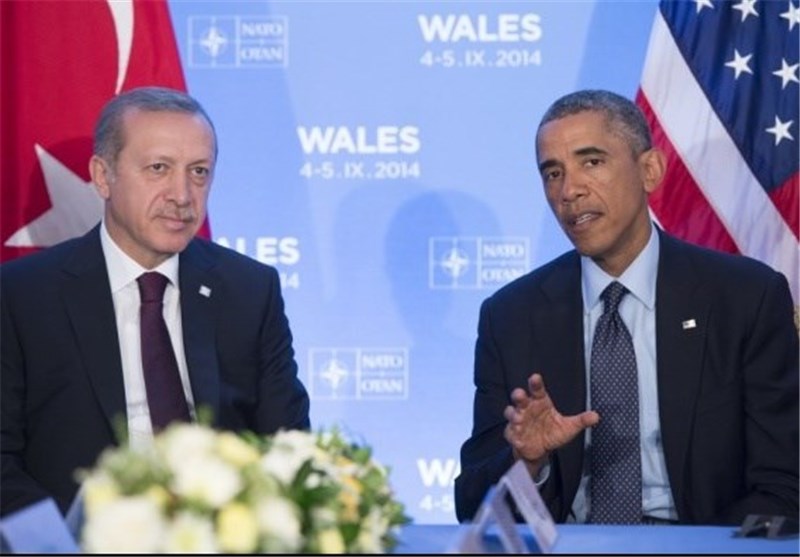 Obama met Turkish president Tayyip Erdogan in Paris, where he has been attending the climate summit, a week after Turkish jets downed a Russian warplane along the Syrian border.
US President also urged his Turkish counterpart to reduce tensions with Russia.
"The United States supports Turkey's right to defend itself and its air space ... We discussed how Turkey and Russia can work together to de-escalate tensions" and find a diplomatic path to resolve the issue," Obama said.
Obama said he stressed to Erdogan that the Islamic State in Iraq and the Levant (ISIL) militant group was the enemy that all sides needed to focus on.
Turkish Prime Minister Ahmet Davutoglu called earlier on Tuesday for the opening of communication channels between Turkey and Russia to prevent further incidents like the downing of the warplane, Reuters reported.
Putin, who has signed a decree imposing economic sanctions on Turkey over the incident, has said Turkey shot down the jet because it wanted to protect supplies of oil from ISIL militants. Erdogan has called claims that Turkey buys oil from ISIL "slander".
Erdogan said on Tuesday following the meeting with Obama that the two had discussed Turkish-Russian tensions.
"Our concern is to not come out badly from this, but on the contrary to turn this into peace and contribute to the peace in the region," Erdogan said.
Obama added that the US was eager to accelerate work on its military-to-military relationship with Turkey to ensure its NATO ally was safe and to help resolve the conflict in Syria.