San Bernardino Mass Shooting: FBI Probes Possible Terror Ties
TEHRAN (Tasnim) – Authorities investigating the massacre in San Bernardino say they have yet to determine a motive for the mass shooting that left 14 dead and 21 others wounded, but law enforcement officials appear to be treating the attack as an act of terrorism.
December, 04, 2015 - 12:06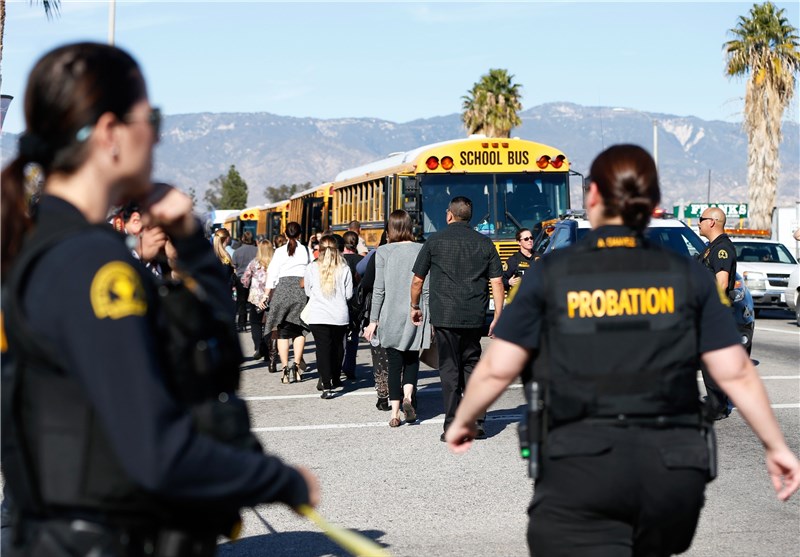 The suspects — 28-year-old Syed Rizwan Farook and his wife, 27-year-old Tashfeen Malik — fired 65 to 75 rounds during a company holiday party at the Inland Regional Center on Wednesday and left 1,400 rounds of ammunition and three pipe bombs attached to a remote-control device before fleeing the scene, San Bernardino Police Chief Jarrod Burguan told reporters on Thursday.
The couple was killed in a massive shootout with police following a high-speed chase through San Bernardino. Police found an additional 1,600 rounds inside their rented SUV and a cache of weapons — including 6,700 rounds of ammunition and 12 more pipe bombs — in the apartment they shared in nearby Redlands.
Officials said that the two were not on the US counterterrorism radar prior to the rampage.
Accoridng to CNN, Farook, an American citizen, traveled to Saudi Arabia where he met Malik in 2013.
FBI assistant director David Bowdich said Malik, a native of Pakistan, came to the United States in July 2014 on a "fiancée visa," eventually marrying Farook and giving birth to a daughter earlier this year.
At some point Farook became radicalized and was "in touch with people being investigated by the FBI for international terrorism." But the network's law enforcement source cautioned that Farook's alleged contact with known terror suspects were "soft connections."
Witnesses told police Farook, an employee with the San Bernardino County public health department, was at the company's holiday party but left after an apparent dispute, returning to the event with his wife wearing tactical-looking gear and carrying assault weapons.
"There appears to be a degree of planning that went into this," Burguan said. "Nobody gets upset at a party, goes home and puts together that kind of an elaborate scheme or plan to come back and do that."
At the White House, President Obama said it was possible that the deadly assault in San Bernardino was "terrorist-related," "workplace-related" or both.
"But we don't know," Obama said.
Law enforcement officials, though said that based on the stockpile of weapons police found, the suspects' "Middle East travels and evidence that one of them had been in touch with people with extremist views," authorities are treating the case as a "terrorism investigation."
"There was obviously a mission here," Bowdich said. "We know that. We do not know why."
He told reporters that investigators are looking into the possibility that the couple used the online al-Qaeda magazine Inspire to help build their homemade explosives, but do not have evidence that they did.
"We cannot rule out anything at this point," Bowdich said.
Some reports also indicate that investigators are leaning toward a possible hybrid "of terrorism and workplace" motivation.
"We're very involved in terms of trying to see if the motive was something inspired by a terrorist organization or directed by a terrorist organization, or whether [Farook] was self-radicalized," a law enforcement source said.