Spokesman Downplays Erdogan's Claims of Anti-Iran Threats
TEHRAN (Tasnim) – Iranian Government Spokesman Mohammad Baqer Nobakht on Tuesday slammed as "wrong and questionable" a recent claim made by Turkish President Recep Tayyip Erdogan about giving a warning to Iran, and stressed that even superpowers cannot threaten Tehran, let alone Turkey.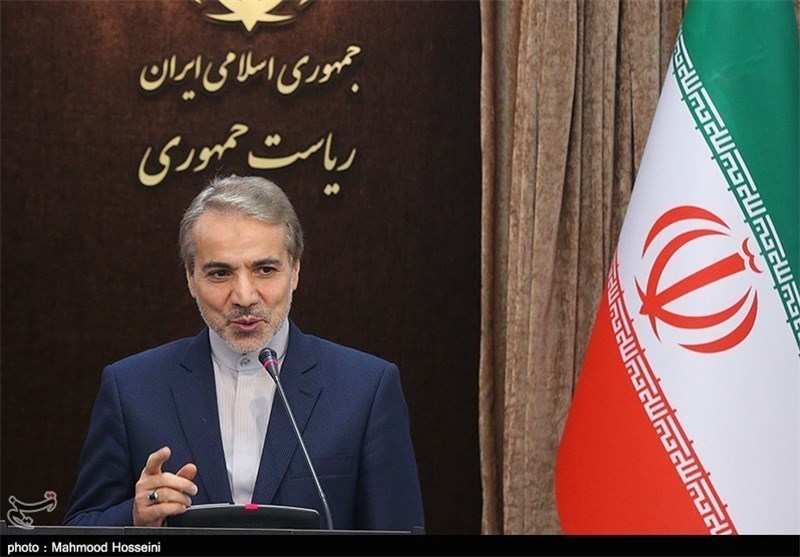 According to Turkish media, President Erdogan said Thursday that he has warned his Iranian counterpart President Hassan Rouhani over accusations that Erdogan and his family are involved in black market oil trading with the Islamic State in Iraq and Levant (ISIL) terrorist group.
In a phone conversation on December 3, Erdogan said he told Rouhani that "You will pay a high price if it continues like that."
In reply, Nobakht said that Erdogan's remarks about Iran are both wrong and questionable.
"The phone call was made in (the solar month of) Mordad (July 23 to August 22), and Mr. Erdogan said during the conversation that an Iranian medium has published something about him and his family," Nobakht noted.
President Rouhani replied that Iran respects freedom of speech, the Iranian spokesman explained, dismissing Erdogan's claims that he has threatened Tehran.
"If Erdogan claims to have threatened or warned Iran, he should know that Iran's Foreign Minister told someone stronger than him (Erdogan) that 'never threaten an Iranian'," Nobakht underlined.
Even those in higher positions could not threaten Iran, he emphasized during a press conference here in Tehran.
He also urged the advisers to the Turkish president to provide him with correct information and not to cause a rift in Ankara's ties with its neighbors as the country (Turkey) "has many problems" itself.
Nobakht's remarks alluded to Iranian Foreign Minister Mohammad Javad Zarif, who had warned European Union Foreign Policy Chief Federica Mogherini and world powers' foreign ministers attending a July nuclear meeting in the Austrian capital of Vienna to avoid threatening Iran.
During a meeting held between Zarif, the ministers of the Group 5+1 (Russia, China, the US, Britain, France, and Germany) and Mogherini as part of efforts to clinch a long-awaited accord over Tehran's nuclear energy program, the atmosphere of the talks soured somehow.
"And then at some stage, when the Iranian officials seriously defended their positions, Mogherini warned to leave the talks, saying the negotiations couldn't go on and every one had better return home as long as the conditions prevailing over the meeting continued," sources close to the talks said at the time.
According to the sources, Zarif immediately replied, telling Mogherini and other ministers, that "never threaten an Iranian!"