IAEA Resolution on Closure of Iran's PMD Case Expected Next Tuesday: Envoy
December, 08, 2015 - 18:27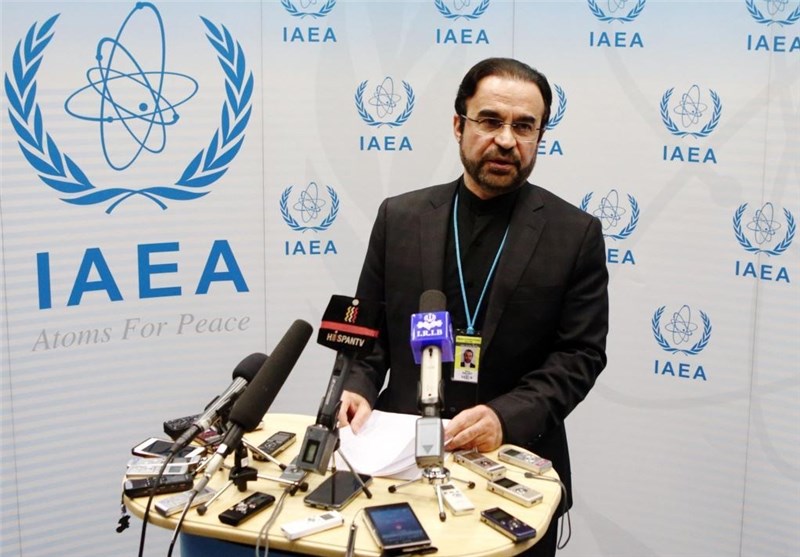 TEHRAN (Tasnim) – Iran's Ambassador to the International Atomic Energy Agency Reza Najafi announced that IAEA Board of Governors is expected to approve a draft resolution which will close a case on the so-called possible military dimensions (PMD) in Tehran's nuclear program.
"As you can see, the Group 5+1 (Russia, China, the US, Britain, France and Germany) has presented a draft resolution based on the Article 14 of the Joint Comprehensive Plan of Action (JCPOA) with the aim of closing the PMD issue," Najfi said on Tuesday.
It is expected that the resolution be approved by the IAEA Board of Governors next Tuesday, December 15, the diplomat said.
According to the Article 11 of the draft resolution, the Board of Governors is expected to terminate all 12 previous resolutions issued by the board against Tehran, including two resolutions on PMD case in November 2011 and September 2012, on the first day of the implementation of the JCPOA, Najafi said.
He further said the termination of the resolutions on PMD case, which had asked IAEA Director General Yukiya Amano to issue regular reports on the PMD, means that Amano has no responsibility in this regard any more.
The draft resolution, which will be put to the vote in a session of the IAEA Board of Governors on December 15, will make it possible to actually close Teheran's nuclear dossier and begin the implementation phase of the JCPOA.
The IAEA has been given the role of verifying Iran's commitments under the nuclear deal with six world powers.
As part of a Road-map signed between Iran and the IAEA on July 14, the agency was required to finish its investigations about Iran's nuclear activities and submit a report to the Board of Governors by December 15.
A report released on December 2 by Amano on Iran's nuclear program confirmed that the agency has no credible indications of suspicious work in Tehran's nuclear activities.
The Road-map was signed on the same day that Tehran and the Group 5+1 (Russia, China, the US, Britain, France and Germany) reached a conclusion on a lasting nuclear agreement.
The agreement was officially adopted on October 18, and is going to take effect within the next few weeks.