Iran Ready to Mediate in Russia-Turkey Dispute
TEHRAN (Tasnim) – Iranian First Vice-President Eshaq Jahangiri voiced the country's concern over recent tensions between Turkey and Russia, saying Tehran is prepared to push for a thaw in their relationship.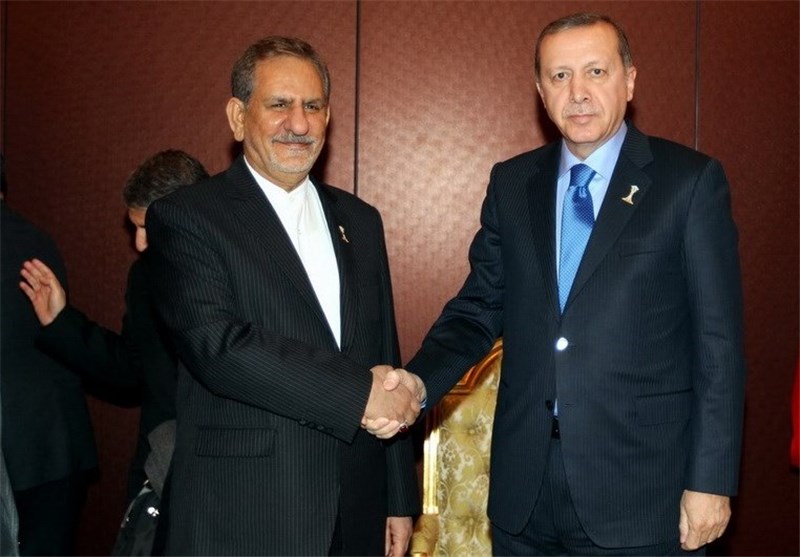 "We are concerned about the tension in relations between Turkey and Russia, and believe that this tension is not good for the region at all, and are ready to help resolve it," Jahangiri said in a meeting with Turkish President Recep Tayyip Erdogan on Saturday.
The meeting took place on the sidelines of the International Neutrality Conference in Ashgabat, Turkmenistan.
Jahangiri's comments came against the backdrop of tense relations between Ankara and Moscow after Turkey downed a Russian warplane near the Syrian border on November 24.
Elsewhere in his comments, the Iranian vice president stressed that Tehran and Ankara should join hands in the fight against terrorism and extremism, despite some differences over Syria.
For his part, Erdogan said Turkey does not favor the spread of tensions in the region, calling for "dialogue" to clear up the misunderstandings.
Erdogan, however, voiced unease at the reports in the Iranian media outlets about accusations of his family's involvement in the oil trade with the ISIL terrorist group, asking Iran's government to tighten control on media.
But Jahangir made it clear that the media in Iran are not under the control of government and even criticize the administration.
He explained that none of the Iranian officials have made any comments against the Turkish government, but the officials in Turkey have repeatedly made "negative and incorrect" remarks against the Iranian government and sanctities.
Russia says it has provided documents suggesting that Erdogan's son, Bilal, is directly involved in oil trade with Daesh and that Turkey downed the Russian jet to protect this oil smuggling business.