Syrian Troops Score More Gains near Damascus
December, 14, 2015 - 13:21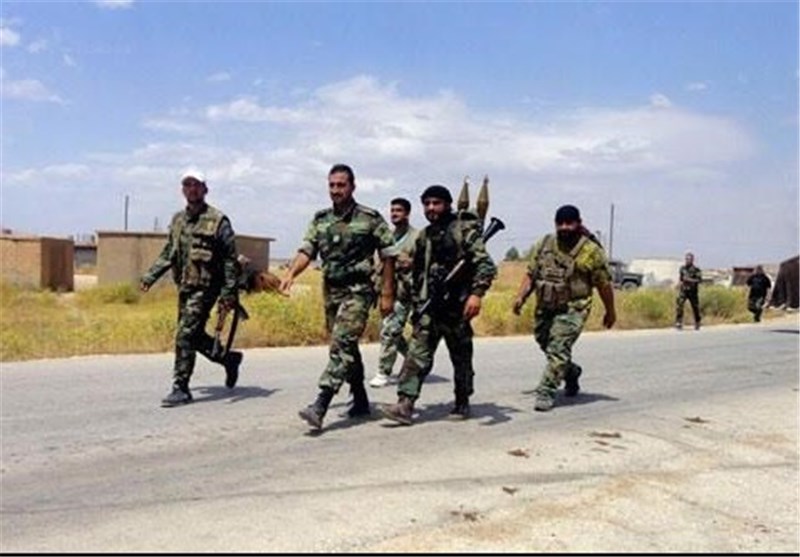 DAMASCUS (Tasnim) – The Syrian army continued to make more gains in their battle against Takfiri militants in the eastern Damascus suburb of Ghouta.
According to Tasnim dispatches, the Syrian troops along with popular resistance forces struck a heavy blow to the so-called Jaish al-Islam (army of Islam) terrorists in the district of Marj al-Sultan and managed to seize control of their key strongholds after pushing them back from their positions.
Large groups of the terrorists were killed and injured during the operation.
During the operation, Syrian bomb disposal teams found and defused hundreds of booby traps planted by the retreating militants in the area.
In addition, several thermographic and surveillance cameras set in several areas in Marj al-Sultan to track the movements of the Syrian Army forces were seized.
In separate developments, Syrian and Russian warplanes heavily pounded positions of the terrorists in the areas of Douma, Ain Terma, and Saqba in the outskirts of Damascus, leaving scores of the militants dead and injured.
Syria has been entangled in civil war since March 2011. In the past four and a half years, more than 250,000 people have died in Syria -overwhelmingly civilians- and around 4 million Syrian people are now refugees in other countries. Around 8 million others have been displaced internally.
Meanwhile, Russia's aerial support for the Syrian forces has given fresh impetus to the fight against the foreign-backed terrorists.
Since late September, Russia has been carrying out bombings against the ISIL terrorists in Syria, after Russia's parliament granted President Putin authorization to deploy the country's air force abroad.