Lebanese You Stink Campaign Announces Three Upcoming Protests
TEHRAN (Tasnim) - The "You Stink" campaign Monday announced for the first time in over a month that it plans to hold a series of new protests to pressure the government into ending the country's five-month trash crisis and pass a new electoral law.
December, 15, 2015 - 12:03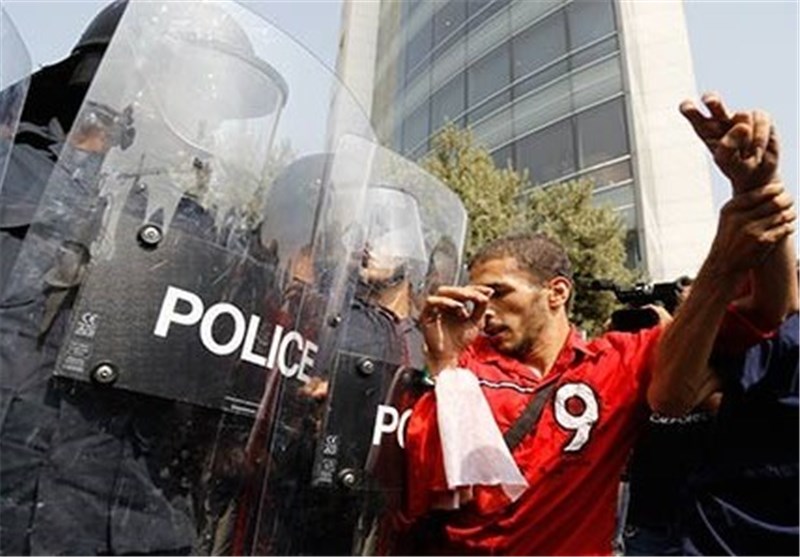 "Ever since we took to the streets, we promised that we will continue until the trash crisis is over. And here we are today, reiterating this after all the lies and propaganda against us," Assaad Thebian, a founder and spokesperson for the You Stink campaign, said during a news conference in Beirut's Tayyouneh area on Monday.
The new protests Thebian announced come weeks after a march organized by the campaign in October, from the National Museum to the Ain al-Mreisseh neighborhood in Beirut, brought over 1,000 protesters to the streets.
The announcement also comes after the campaign conducted a series of polls asking people what they thought the best methods of protest and most important issues were, the results of which were later released on social media sites.
Thebian called on people to protest outside Beirut's Justice Palace Wednesday Dec. 16, at 1 pm to pressure the financial prosecution to look into corruption cases.
A second protest, which is scheduled to take place Thursday Dec. 17, at 1 pm outside the finance and telecoms ministries, is intended to pressure both ministries to release municipal funds in an effort to decentralize the waste sector.
The Interior Ministry on Dec. 3 ordered the distribution of long-awaited telecoms revenues owed to municipalities and municipality unions, after Cabinet approved three decrees in late November amounting to LL1,200 billion ($795 million) in funding owed from 2010 to May 31, 2014. This has been a long popular demand of civil society groups.
A third bigger protest is scheduled for Saturday Dec. 19 at 3 pm in Downtown Beirut's Riad al-Solh Square, a traditional gathering spot for the civil society campaigns.
"We have two demands. ... Solve the trash crisis in an efficient and environmentally friendly way, away from suspicious deals based on personal benefits, sectarian and political divides, and pass a new electoral law based on proportional representation," Thebian said, the Daily Star reported.
He also mentioned what he called "visions for Lebanon's future," saying that the campaign wanted a "civil rather than sectarian state, a state that respects the Constitution and a state which taxes people fairly based on their income."
"All we want during Saturday's protest are Lebanese flags. ... We don't even want to use the You Stink slogan, we just want our rights," Thebian said.
He apologized from the inconvenience that the movements might cause during the holiday season, saying that the purpose of the new escalatory measures was "to bring hope for the New Year."
The You Stink spokesperson dismissed comments that the new round of protests contradicted Agriculture Minister Akram Chehayeb's comments earlier Monday that the trash crisis will be solved soon.
"Chehayeb has been saying that the solution is in its final stages for months now, while exporting the trash was meant to happen about two months ago. ... We are with any solution he [Chehayeb] puts forward that respects the environment and does not squander public money," he said.
Chehayeb said Monday morning that the ministerial committee overseeing the country's trash crisis would hold a final meeting in the upcoming days to set a Cabinet session to approve a plan to export garbage, revealing that the committee chose several companies and signed preliminary agreements awaiting the Cabinet meeting.
Thebian said that other civil society groups such as "We Want Accountability" and "Change Is Coming" would join his campaign in the upcoming protests, and dismissed rumors that there were sharp differences between them.
"What unites us is much more than our differences and hopefully we will stand together as our demands are the same," he added.
The garbage crisis broke out when the government shut down the notorious Naameh landfill in July with no alternative, resulting in the accumulation of tons of rotting waste across Greater Beirut and Mount Lebanon. The trash has since been left in hazardous, temporary locations, such as on the sides of streets and major roads, in parking lots and along coasts. Tons have also been dumped into valleys, while burning trash has become a near-daily occurrence.