Ruling People's Party Scores Uneasy Win in Spain Vote
TEHRAN (Tasnim) – Spain dealt a blow to two-party politics in historic elections that saw the incumbent conservatives score an uneasy win tailed by the long-established Socialists and upstart, far-left Syriza ally Podemos.
December, 21, 2015 - 12:06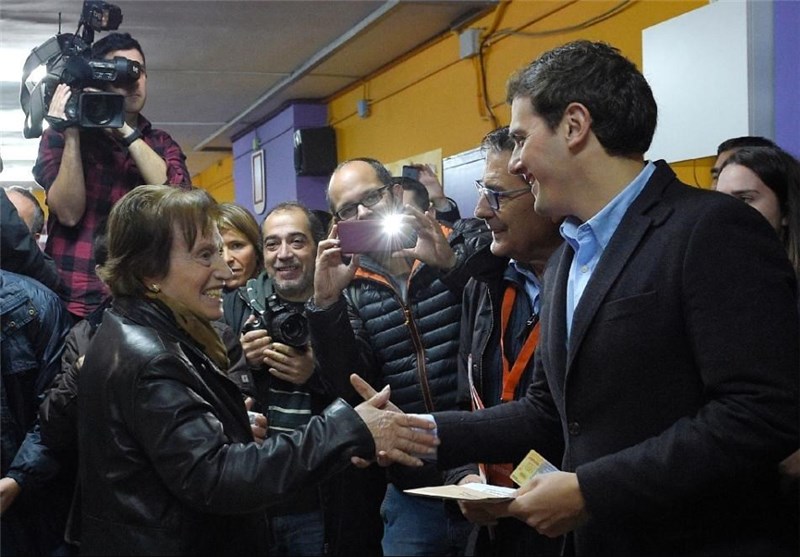 For more than 30 years, the Popular Party (PP) and Socialists had alternated power, but they now find themselves challenged by relative newbies Podemos and Ciudadanos, a centrist party that came fourth in the closely-fought legislative polls, AFP reported on Monday.
While it took the largest share of the vote, the PP lost its absolute majority in parliament by a significant margin and will now have to form an alliance with other parties to govern or attempt to rule as a minority government, creating near-term uncertainty.
Undeterred, incumbent Prime Minister and PP leader Mariano Rajoy said in Madrid he would strive to form a government, standing on top of a tall, blue podium marked "Gracias" ("Thank you") and speaking down to cheering supporters.
"Spain needs a government that has the support of parliament," the 60-year old said.
The country's Socialists (PSOE), meanwhile, scored their worst result in modern history -- challenged as they were by Podemos, which has skillfully managed to surf on the wave of exasperation over austerity and corruption that saw it emerge in the first place.
The polls cap a year of electoral change in southern Europe after Syriza swept to power in Greece in January and a coalition of leftist parties in Portugal pooled their votes in parliament to unseat the conservative government after an inconclusive election in October.
Official results showed Spain's ruling PP obtained 123 seats -- 63 less than in 2011 -- with 28.7 percent of the votes.
The PSOE followed with 90 seats and 22 percent of the vote, then Podemos with 69 seats and 20.6 percent, and finally centrists Ciudadanos got 40 seats or nearly 14 percent.
The results mean that the parliament will be constituted of four main groupings of significant clout, as opposed to the usual PP and Socialists tandem.
And the only parties able to form a majority with Rajoy's PP would be the Socialists or Podemos, unlikely scenarios.
After holding talks with the leaders of each party that has won seats in parliament, King Felipe VI, the head of state, will nominate a prime minister.
The nominated leader must then win a vote of confidence in the assembly in order to take office -- a process that can drag on and on.
If there is still a deadlock within two months of the first vote, the king must call a new election.