Scotland Ruling Party Always against West's Anti-Iran Stances: MP
TEHRAN (Tasnim) – A senior Scottish lawmaker and member of the ruling Scottish National Party (SNP) said the party has constantly been opposed to the West's moves against the Islamic Republic of Iran.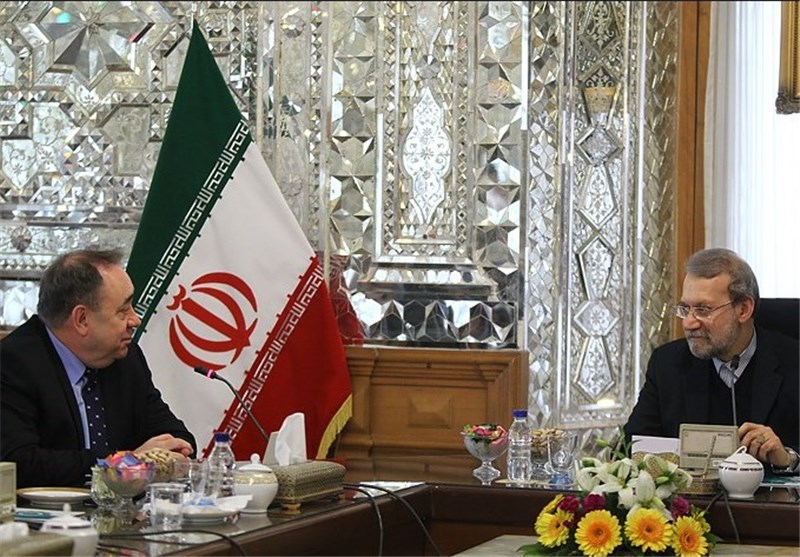 Scotland's ruling party has always been against the decisions that Westerners make against Iran and believes these decisions, which have caused many problems for Iran as well as other countries, are fundamentally wrong, Alexander Elliot Anderson Salmond said in a meeting in Tehran with Iranian Parliament Speaker Ali Larijani.
He referred to a visa bill recently approved by the US Congress as one of these wrong decisions and hoped that the move will be rectified as soon as possible.
According to the bill, which was passed in the US House by 407 to 19 on December 8, visitors from the 38 "visa waiver" countries will need to obtain a visa to travel to the US if they have been in Syria, Iraq, Iran or Sudan in the past five years.
Citizens of 38 countries, many in the EU, can currently fly to the US without applying for a visa under America's Visa Waiver Program.
Elsewhere in his remarks, Salmond said that the SNP is keen for forging close ties with Iran in economic, cultural and education fields and hoped for positive steps to be taken in that direction.
Larijani, for his part, highlighted the potentials of Iran and Scotland for boosting relations and said once these potentials are identified, the two sides can expand bilateral cooperation in different areas.