Five Dead, 150,000 Evacuated in Latin America Floods
TEHRAN (Tasnim) – Flooding in parts of Latin America dampened Christmas eve celebrations Thursday, leaving five people dead and driving almost 150,000 from their homes in Paraguay, Argentina and Uruguay.
December, 25, 2015 - 12:17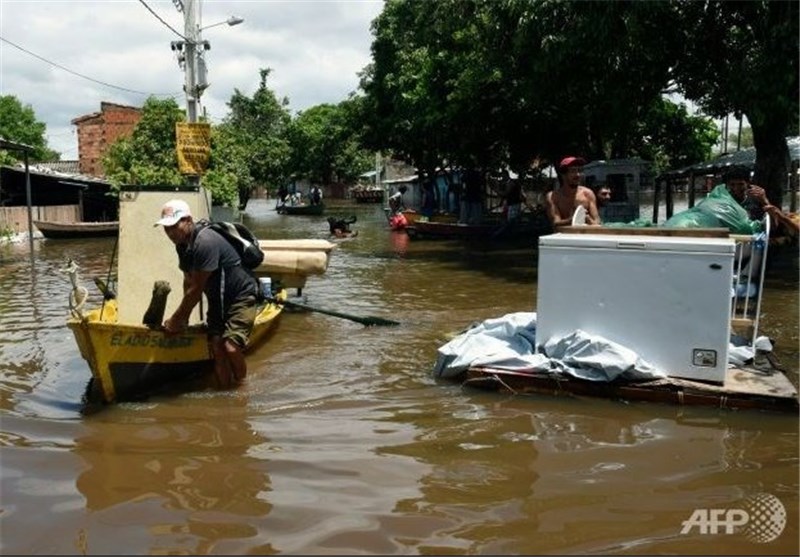 Some 130,000 people have been forced from their homes across Paraguay, officials said, as President Horacio Cartes declared a state of emergency to free up more than $3.5 million in disaster funds.
Three people traveling Paraguay's international Route 2, which links Asuncion and Foz de Iguazu in Brazil were killed when a tree fell on their vehicle before dawn.
Another woman traveling by motorcycle in Asuncion was killed by a falling tree overnight, official sources told AFP.
The National Emergency Secretariat (SEN) reported a dozen other similar incidents in the capital.
The agency's head of operations, David Arellano, said rescue and evacuation operations were underway for dozens of families in the face of floodwaters from the Paraguay River.
Around the capital Asuncion 125,000 homes were without power and 17 power distribution centers knocked out across the country.
Northeastern Argentina also reported widespread disruption and one fatality from the worst flooding in half a century.
A 13-year-old boy was electrocuted by a power cable while trying to assess storm damage to his home in the city of Corrientes, local media reported.
In Entre Rios province, at least 10,000 people were evacuated in Concordia, a city of some 170,000 on the banks of the Uruguay River that saw nonstop rain throughout the night, Mayor Enrique Crest said.
"This is the worst flooding in 50 years," he said, adding that although "flooding was predicted due to El Nino, no one thought that it would be so substantial."
The governor of Entre Rios said the number of evacuees across the province could move beyond 10,000 to "between 16,000 to 20,000."
The city is located 18 kilometers (11 miles) from the Salto Grande dam, which is "running at its operational capacity," Crest said.
Uruguay on Wednesday also declared a state of emergency in three northern departments affected by flooding.
The number of displaced people had reached almost 5,500 by Thursday, as the situation continued to worsen.