Nigerian Protesters Demand Release of Shiite Cleric
TEHRAN (Tasnim) – People in several northern cities of Nigeria staged rallies to condemn violent crackdown against Shiite Muslims in the African country and urge the release of prominent Shiite cleric Sheikh Ibrahim Zakzaky.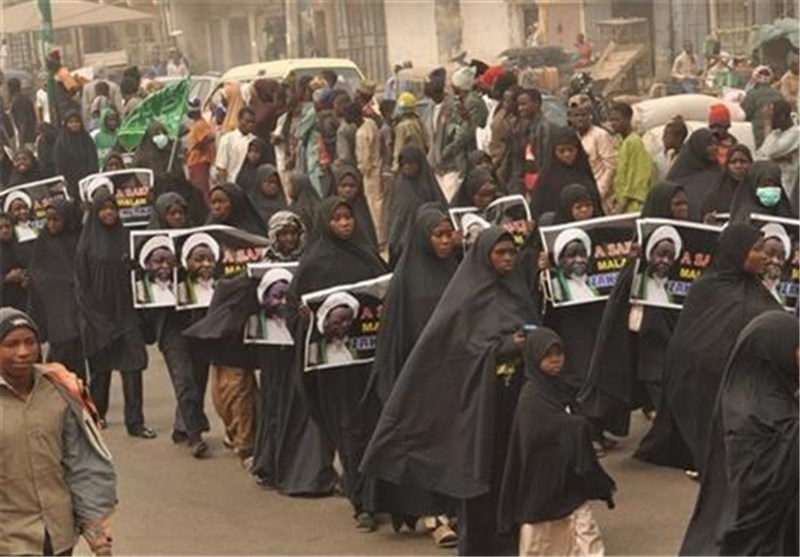 Demonstrations were organized in the cities of Kano, Katsina and Sokoto on Thursday, observed by Sunni Muslims as the birth anniversary of Prophet Mohammad (PBUH).
Participants in the rallies slammed the recent killings of Shiites by the government forces, and called for the immediate release of Sheikh Zakzaky and other inmates arrested by the Nigerian security forces.
Abdulhamid Bello, who led the rallies in Kano, said the protesters mourn the deaths of as many as 1,000 Shiites killed by the army in Zaria from December 12 to 14, according to Press TV.
Reading a statement, he said the protesters also demand justice for those killed in the recent violent attacks.
According to reports, at least 100 Muslims were killed two weeks ago when the Nigerian army raided the Islamic Movement headquarters and arrested its leader in the northern city of Zaria. Meantime, some media reports said that the death toll is much higher.
On December 13, the army raided several buildings connected to the Islamic Movement and the home of Zakzaky. They arrested him and killed key members of the group, including Zakzaky's second-in-command and spokesman.
Aliy, Zakzaky's son, was among dozens who lost their life in the raid.
Three of Mr. Zakzaky's sons had been killed in a similar attack by the Nigerian Army in July 2014.
The Nigerian Army alleges that members of the Islamic Movement were involved in an attack on the convoy of the Chief of Nigeria's Army Staff, Tukur Buratai. The movement has vehemently denied the allegations.