Christmas Day Cleanup after Storms Kill 14 in US
TEHRAN (Tasnim) – Rescue workers and heartbroken residents sifted through what was left of homes wiped out by several ferocious storms and tornadoes that killed at least 14 people in southeastern United States.
December, 26, 2015 - 17:04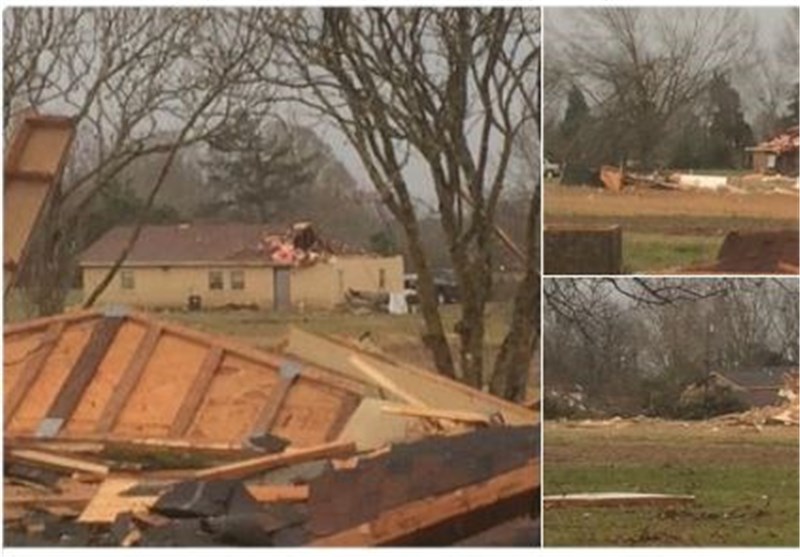 The storms, feeding on unseasonably warm air, left a trail of destruction in rural communities from Alabama to Illinois, just as Christmas reached its crescendo.
More than a dozen tornadoes were reported in six states, with the southern states of Mississippi and Alabama hardest hit. Seven people were confirmed dead there as of Saturday and another 60 injured, with one person missing, said the Mississippi emergency management agency.
"We are experiencing some flash flooding today, with storms coming through right now in five counties. And damage assessments are still ongoing," the emergency agency's Brett Carr told AFP Saturday.
Among the Mississippi dead was a seven-year-old boy who was killed when a storm picked up and tossed the car he was travelling in, fire chief Kenny Holbrook told reporters in the town of Holly Springs, where thousands greeted Christmas Day without power.
Mississippi Governor Phil Bryant declared a state of emergency in seven counties after the storms caused widespread damage.
Governor Robert Bentley also declared a state of emergency across Alabama Friday to deal with the effects of the storm.
Hours after the declaration, a tornado touched down in Birmingham, Alabama, the state's most populous city, uprooting trees, tearing off roofs and injuring three people, local media reported.
Six fatalities were confirmed in Tennessee, including three people found dead Thursday in a car submerged in a creek, according to the fire department in Columbia, Tennessee.
Another person was killed in Arkansas.
Georgia's governor declared a state of emergency in counties affected by the severe weather.
Debris from ravaged buildings and other structures littered roads, making them impassable in parts of the southeast.
Officials across the affected region were inviting volunteers to help clean up or make donations as people who fled returned to their homes to see what, if anything, was still standing.
The worst appeared to be over, but forecasters at the National Weather Service warned severe weather was possible in several states including Mississippi, Missouri and Oklahoma. Flash floods in the US southeast were also a possibility.