Iran's Shamkhani Urges Riyadh to Stop Destabilizing Region
TEHRAN (Tasnim) – Secretary of Iran's Supreme National Security Council on Monday stressed that the Saudi regime is supporting terrorism and extremism, and that such policies undermine the Middle East's stability.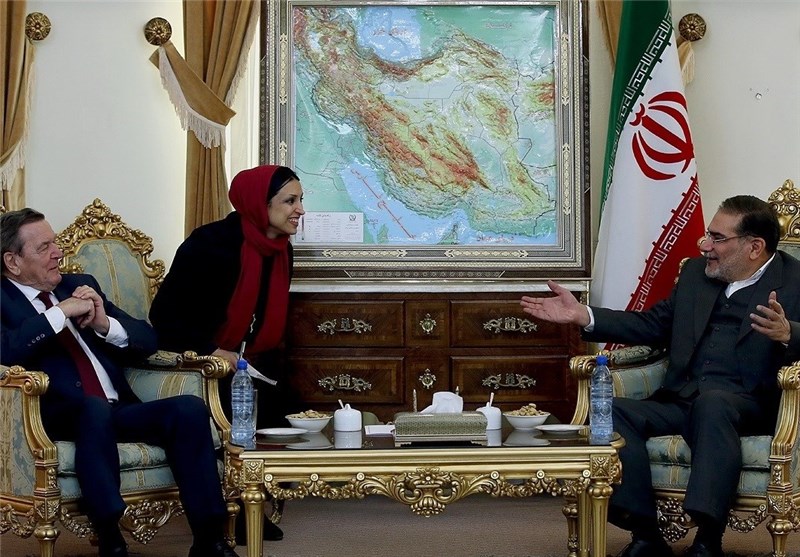 In a meeting with former German Chancellor Gerhard Schroeder here in Tehran, Shamkhani underscored the necessity for regional and international confrontation with countries known as "Daesh (ISIL)-making factories".
He pointed to Riyadh's support for terrorism, and said Saudi Arabia should choose between supporting Takfiri groups and destabilizing the region, and taking the path of constructive interaction and real participation in enhancing security and stability.
Unlike certain lobbies and American officials who see their interests and survival in creating challenges and crises for others, Iran is keen to develop its ties with others and cooperate to resolve crises, he added.
Schroeder, for his part, praised Tehran's effective efforts in different political, security, and military fields to fight against the threats of terrorist groups.
He further condemned a recent move by Saudi Arabia to execute prominent Shiite cleric Sheikh Nimr al-Nimr, and said such moves are against efforts aimed at boosting stability and easing tension.
"The position of Germany and other European countries is opposition to any move that fans the flames of ethnical and religious conflicts," Schroeder added.
Saudi Arabia's execution of 47 prisoners, including Sheikh Nimr, on January 2 drew global condemnation.
The executions took place in 12 cities in Saudi Arabia, four prisons using firing squads and the others beheading. The bodies were then hanged from gibbets in the most severe form of punishment available in the kingdom's law.
Sheikh Nimr had been detained in July 2012 on charges of delivering anti-regime speeches and defending political prisoners.