Iran Expects JCPOA to Enhance Regional Cooperation: Rouhani
January, 12, 2016 - 17:00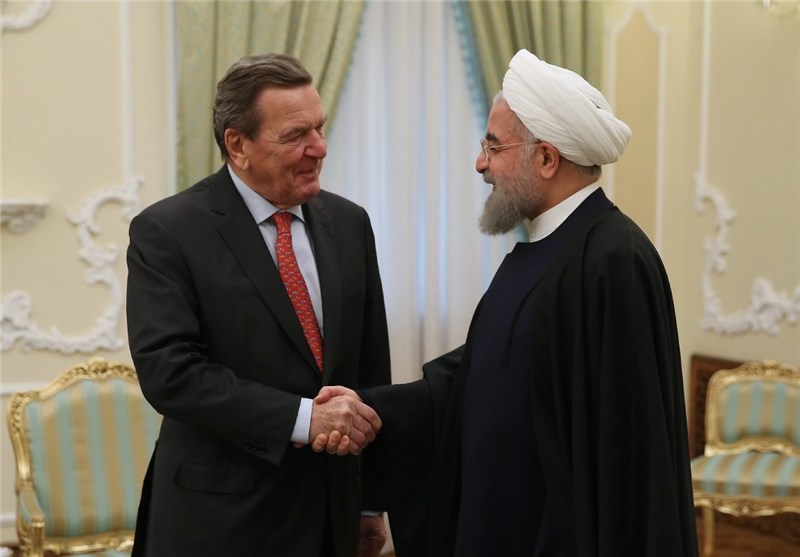 TEHRAN (Tasnim) – Iranian President Hassan Rouhani said on Tuesday that the upcoming implementation of a recent nuclear deal between Tehran and world powers should lead to increased regional collaboration in different fields.
With the imminent implementation of the Joint Comprehensive Plan of Action (JCPOA), the grounds are prepared for improvement of ties with Iran, Rouhani said in a meeting with former German Chancellor Gerhard Schroeder here in Tehran.
"We should act in a way that all the negotiating sides would feel content with the deal," the Iranian president noted, stressing that the agreement should lead to extensive economic, regional, and political cooperation.
"If the other parties of the negotiation remain loyal to their commitments, the Islamic Republic of Iran is also serious and determined in the implementation of the nuclear deal," he added.
Schroeder, for his part, referred to the JCPOA and the subsequent termination of anti-Iran sanctions as a new chapter in Iran-Germany ties and cooperation.
"The nuclear deal showed that international problems and issues can be resolved through negotiation and dialogue, and we can use it as a model for settling international issues including that of Syria," he noted.
The remarks came a couple of days after Iran and the Group 5+1 (Russia, China, the US, Britain, France and Germany) wrapped up expert-level talks in Geneva on Sunday after they studied ways to put into practice the landmark deal on the country's nuclear program.
During the two-day meeting, the two sides' experts tried to finalize measures prior to the implementation of the deal.
"The countdown has begun for the implementation day and the removal of (anti-Iran) sanctions," Foreign Ministry's Director General for International and Political Affairs Hamid Baeedinejad said in a message shared on his Instagram page of the Iran nuclear deal.
Iran and the Group 5+1 (also known as the P5+1 or E3+3) on July 14 reached a conclusion on a 159-page nuclear agreement that would terminate all sanctions imposed on Tehran over its nuclear energy program after coming into force.
Experts believe that Iran's economic growth would rise remarkably after the deal takes effect.