IAEA Inspectors to Verify Iran's Measures Thursday: Spokesman
January, 14, 2016 - 16:58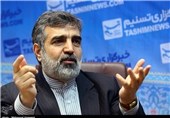 TEHRAN (Tasnim) – Spokesman for Atomic Energy Organization of Iran (AEOI) Behrouz Kamalvandi announced on Thursday that Iran has fulfilled its commitments in Arak heavy-water nuclear reactor, and the International Atomic Energy Agency (IAEA) inspectors are expected to verify it this afternoon.
Speaking in a televised interview with IRIB, Kamalvandi said the country fulfilled its commitments on removing the heart of Arak reactor on Wednesday, and its holes will be filled with cement as per the nuclear deal finalized by Tehran and world powers back in July 2015.
However, he added, the major part of the reactor will be maintained.
He also noted that the IAEA inspectors will verify the country's measures on Thursday afternoon. "We are very close to the implementation stage as the agency's report will be submitted today."
"Today and tomorrow, we will do the final works," Kamalvandi went on to say.
Tehran and the Group 5+1 (Russia, China, the US, Britain, France and Germany) on July 14, 2015 reached a conclusion over the text of the Joint Comprehensive Plan of Action (JCPOA), a comprehensive 159-page deal on Iran's nuclear program.
Under the JCPOA, limits will be put on Iran's nuclear activities in exchange for, among other things, the removal of all economic and financial bans against Tehran.