Americans Condemn Saudi Execution of Nimr, Nigeria Detention of Zakzaky
TEHRAN (Tasnim) – A demonstration in the US city of New York condemned Saudi Arabia's recent execution of top Shiite cleric Sheikh Nimr al-Nimr, as well as Nigeria's detention of senior Shiite cleric Sheikh Ibrahim Zakzaky.
January, 18, 2016 - 16:11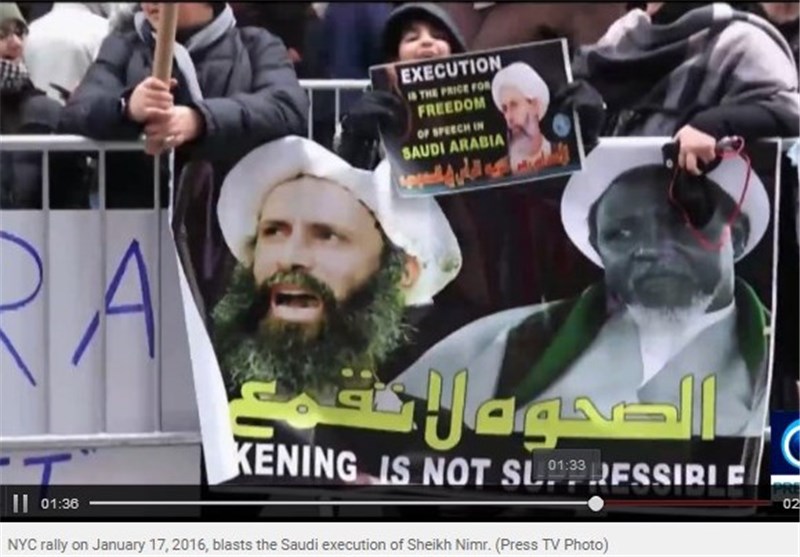 Hundreds of activists gathered at New York's Times Square on Sunday to censure the Saudi kingdom's execution of Sheikh Nimr, and Nigeria's detention of Sheikh Zakzaky.
The protesters chanted slogans against the Saudi government as well as the Daesh (ISIL) militant group, Press TV reported.
A number of speakers addressed the crowd, among them a young girl, calling for peace and unity among all Muslims, while condemning the Saudi oppression.
Sheikh Nimr was among 47 people executed on 2 January at the hands of the Saudi regime after being convicted on "terrorism" charges.
He was a vocal critic of the regime in Riyadh.
Protesters also demanded the release of prominent cleric and the leader of the Islamic Movement of Nigeria (IMN) Sheikh Zakzaky.
Zakzaky has been in police custody since Nigerian forces raided his home on December 13 and arrested him after reportedly killing those attempting to protect him, including one of the movement's senior leaders and its spokesman.
The Shiite cleric is said to have been charged with "criminal conspiracy and inciting public disturbances."
The demonstrators also blasted the US government over its silence on Nigeria killings.