US Politicians' Remarks Ignite Suspicion: Supreme Leader
January, 19, 2016 - 14:33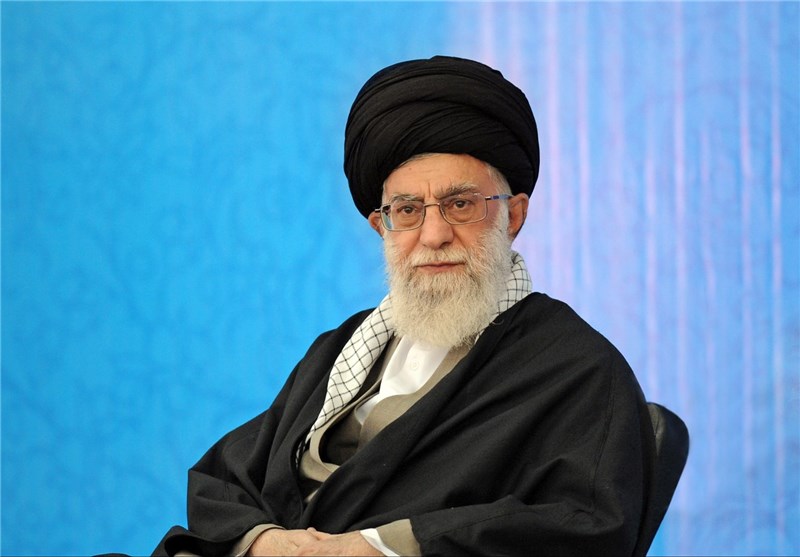 TEHRAN (Tasnim) – Supreme Leader of the Islamic Revolution Ayatollah Seyed Ali Khamenei on Tuesday referred to recent "suspicious" remarks made by certain US officials against Iran, and urged the government to ensure the other side of the nuclear deal fulfills all of its commitments.
In a letter to Iranian President Hassan Rouhani, Ayatollah Khamenei expressed pleasure that Iran's resistance to cruel sanctions and the efforts by the country's nuclear scientists as well as the Iranian nuclear negotiating team bore fruit and made the other side withdraw and terminate part of those sanctions.
The leader further appreciated the efforts of President Rouhani, Foreign Minister Mohammad Javad Zarif, and the negotiating team and wished success for them, but at the same time reminded the government of five important points.
Firstly, the Leader noted, care should be taken to ensure that the other side of the deal fulfills its commitments completely.
Remarks by certain US politicians in the recent two or three days ignite suspicion, Imam Khamenei warned.
Secondly, the Leader added, all Iranian officials should be notified that the resolution of the country's economic problems hinges on restless and wise efforts in all fields in line with principles of 'Resistance Economy'.
"Removal of sanctions per se is not enough for a boom in the country's economy and people's livelihood," Supreme Leader said, referring to the recent termination of anti-Iran sanctions as per the nuclear deal finalized by Tehran and world powers.
Thirdly, the Leader cautioned the government not to show itself "grateful" to the Western side for this deal, since it has costed the country dearly, and this should not be ignored.
Ayatollah Khamenei also highlighted the role of resistance to the global hegemony in gaining such an achievement, saying, "All of us should consider it as a great lesson for all issues and events in the Islamic Republic."
The Leader finally reiterated his warning against deceptions and breaches of hegemonic states, US in particular, in this issue and other ones.
The Leader's letter came in response to an earlier letter by President Rouhani, in which he provided details on the recent implementation of the nuclear deal between Tehran and world powers, and briefed Ayatollah Khamenei on the nuclear achievements.
In the letter which was written on Saturday and published on Monday, Rouhani pointed to 12 years of resistance the Iranian nation showed to threats and sanctions, and underlined 11 achievements of this resistance.
The letters came after Foreign Minister Zarif and European Union's Foreign Policy Chief Federica Mogherini on late Saturday announced in a joint statement that the implementation of the nuclear deal finalized by Tehran and world powers back in July 2015 has officially been started.
With the implementation of the agreement reached between Iran and the Group 5+1 (Russia, China, the US, Britain, France and Germany), all nuclear-related sanctions against the Islamic Republic were terminated.