Bombs Kill 22 at Army Checkpoint in Syria's Homs
TEHRAN (Tasnim) - At least 22 people were killed in a double suicide bomb attack at an army checkpoint in the central Syrian city of Homs Tuesday.
January, 26, 2016 - 15:39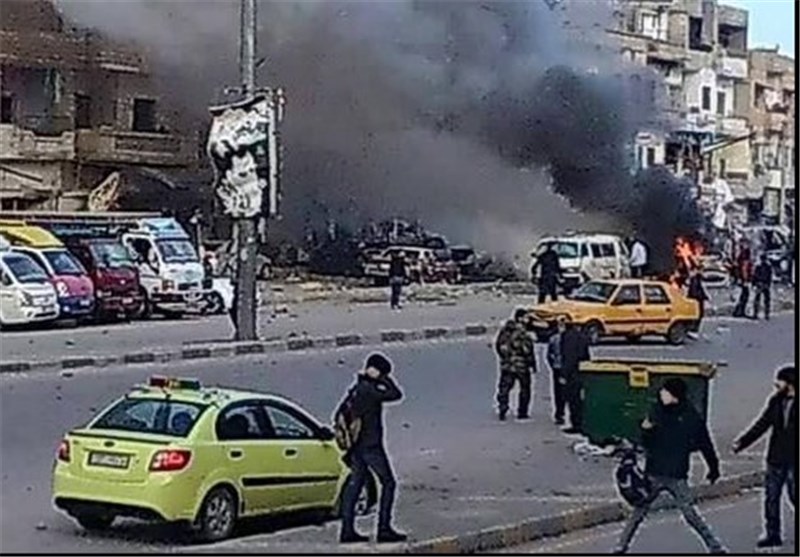 In a breaking news alert, Syria's TV said 100 people had also been injured in the blasts in the Zara neighborhood of the city, which has been targeted in bomb attacks multiple times before.
The provincial governor of Homs, Talal al-Barazi, told AFP at least 19 people had been killed in the attacks.
He said the two bombers appeared to have pulled up at the army checkpoint in a car together, with one exiting the vehicle before the other detonated his explosives while still inside.
In the chaos of the first blast's aftermath, and as a crowd gathered, the second bomber detonated his explosives, Barazi said.
The Syrian Observatory for Human Rights, a Britain-based group close to Syria's foreign-backed opposition, also reported the blasts, saying at least 21 people had been killed, among them 13 government forces.
The group's director Rami Abdel-Rahman said the second suicide bomber had been wearing military clothes.
Daesh (ISIL) claimed responsibility for the double suicide blasts in an online statement.
The Zara district of Homs has been targeted in multiple bomb attacks in the past, including in late December, when 19 people were killed in several simultaneous blasts.
Homs city was once dubbed the "capital" of Syria's foreign-prompted conspiracy against Syria's government. Currently after years of devastating fighting most of the city is now back in government hands, with the exception of the Waer district, which is being gradually turned over to the government under a deal with militants.