Iran's FM Hails President Rouhani's Historic France Visit
TEHRAN (Tasnim) – Iranian Foreign Minister Mohammad Javad Zarif referred to the recent visit by President Hassan Rouhani to the French capital of Paris, saying that it indicated the power of diplomacy and opened new chapters for mutual cooperation.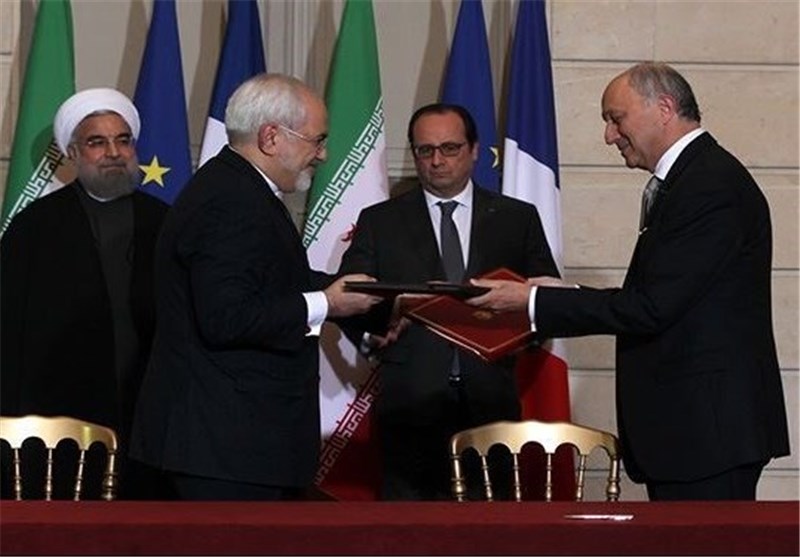 President Rouhani's France visit "illustrated the power of diplomacy," Zarif said on Thursday night in a post in his Twitter account.
He further noted that after the visit, Tehran and Paris have entered "a new era of mutually beneficial cooperation in economy, politics, and culture."
The Iranian president and his 120-member delegation of business leaders and cabinet ministers arrived in Paris on Wednesday evening.
Iran and France signed a series of trade deals thought to be worth billions of dollars during the historic visit by President Rouhani.
The deals include cooperation in a range of sectors such as aviation, car manufacturing and oil, among others.
The purchase of 118 Airbus planes by Iran is worth a total of $25 billion. The deal to purchase 73 long-haul and 45 medium-haul planes will be finalized once international sanctions against Iran are fully lifted.
Another key basic deal was a framework agreement that Iran signed with Total over the purchase of crude oil.
Total, as it has announced through a separate statement, has also signed a Memorandum of Understanding (MoU) with the National Iranian Oil Company (NIOC) to have access to the technical data of certain Iranian oil and gas projects to assess their development potentials.
The two also signed a framework agreement which will allow Total to take between 150,000 and 200,000 barrels of crude from Iran a day for delivery to French and European refineries.
Other key basic deals that were signed included one for construction giant Bouygues and Aeroports de Paris (ADP) to upgrade airport facilities in Iran.
The French major carmaker Peugeot Citroen PSA earlier announced that it had finalized a binding contract with Iran's leading automobile manufacturer Iran Khodro over the production of cars in the country.
The contract whose value stands at €400 million envisages the investment by Peugeot in modernizing platforms, particularly in the main Iran Khodro site near Tehran. The investment will also allow for the export of vehicles to the region.
PSA will begin by producing 200,000 cars a year in a 50:50 joint venture, producing the Peugeot 208, 2008, and 301 models. Vehicle production will start in the second half of 2017, the reports said.