Iranian Freestyle Wrestlers Win Five Gold Medals at Paris Tournament
TEHRAN (Tasnim) – Iranian freestyle wrestlers won five gold medals in the two-day Paris Tournament 2016.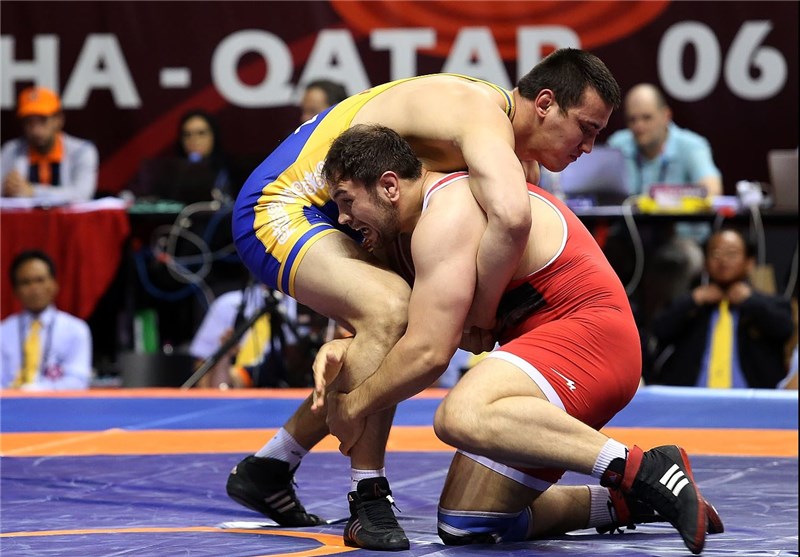 Reza Ahmadi Atri in 57kg, Hassan Rahimi in 61kg, Seyed Ahmad Mohammadi in 70kg, Alireza Karimi in 86kg and Komeil Ghasemi in 125kg claimed five gold medals.
Hassan Yazdani won a silver medal in 74kg and Abbas Tahan seized the bronze medal in 97kg.
Results:
57 kg
GOLD: Reza Ahmadali ATRINAGHARCHI (IRI) df. Levan METREVELI VARTANOV (ESP), 7-2
BRONZE: Levani MURTSKHVALADZE (GEO) df. Uziel CORREIA DE SANTANA JUNIOR (BRA) by TF, 10-0
BRONZE: Adama DIATTA (SEN) df. Batbold SODNOMDASH (MGL), 5-1
61 kg
GOLD: Hassan Sabzali RAHIMI (IRI) df. Shota PHARTENADZE (GEO), 5-1
BRONZE: Adil ADILI (MKD) df. Randy Adrian VOCK (SUI), 7-0
BRONZE: Giorgi REVAZISHVILI (GEO) df. Iman Mokhtar SADEGHIKOUKANDEH (IRI), 15-6
65 kg
GOLD: Lhamgarmaa NARMANDAKH (MGL) df. Giorgi BREGADZE (GEO) by TF, 19-8
BRONZE: Iurii SIEMAKIN (FRA) df. Maxime Eric FIQUET (FRA), 6-0
BRONZE: Batmagnai BATCHULUUN (MGL) df. Norbert LUKACS (HUN), 6-4
70 kg
GOLD: Seyedahmad Seyedmahmoud MOHAMMADIPAHNEHKOLAEI (IRI) df. Avtandil KENTCHADZE (GEO), 9-7
BRONZE: Johnny Just BUR (FRA) df. Archil GIGAURI (GEO), 10-2
BRONZE: Azamat NURYKAU (BLR) df. Balazs KALMAN (HUN) by TF, 10-0
74 kg
GOLD: Ali SHABANAU (BLR) df. Hassan Aliazam YAZDANICHARATI (IRI), 6-6
BRONZE: Chris Michael PERRY (USA) df. Alireza Mohammad GHASEMI (IRI), 8-5
BRONZE: Mihaly NAGY (HUN) df. Amirkhan VISALIMOV (AUT), 8-1
86 kg
GOLD: Alireza Mohammad KARIMIMACHIANI (IRI) df. Istvan VEREB (HUN), 7-2
BRONZE: Turtogtokh LUVSANDORJ (MGL) df. Naib ILALDAYEV ITAYEV (SWE) by FALL, 4-0
BRONZE: Aliaksandr HUSHTYN (BLR) df. Adam ABDULVAKHABOV (RUS) by TF, 10-0
97 kg
GOLD: Jose Daniel DIAZ ROBERTTI (VEN) df. Khuderbulga DORJKHAND (MGL), 5-3
BRONZE: Imants LAGODSKIS (LAT) df. Attila SZMIK (HUN) by forfeit, 0-0
BRONZE: Abbas Mohammadtaher TAHAN (IRI) df. Paulo Victor SANTOS DE SOUZA (BRA) by TF, 13-2
125 kg
GOLD: Komeil Nemat GHASEMI (IRI) df. Luis Felipe VIVENES URBANEJA (VEN) by TF, 12-0
BRONZE: Chuluunbat JARGALSAIKHAN (MGL) df. Antoine Braga ABOU JAOUDE (BRA) by TF, 10-0
BRONZE: Tervel Ivaylov DLAGNEV (USA) df. Daniel LIGETI (HUN), 2-2