1 Killed by Fallen Tree as Storm Hits California
TEHRAN (Tasnim) – A motorist was fatally struck by a tree that was knocked by powerful winds as a winter storm hit California, bringing downpours, wind and snow, authorities said Sunday.
February, 01, 2016 - 14:05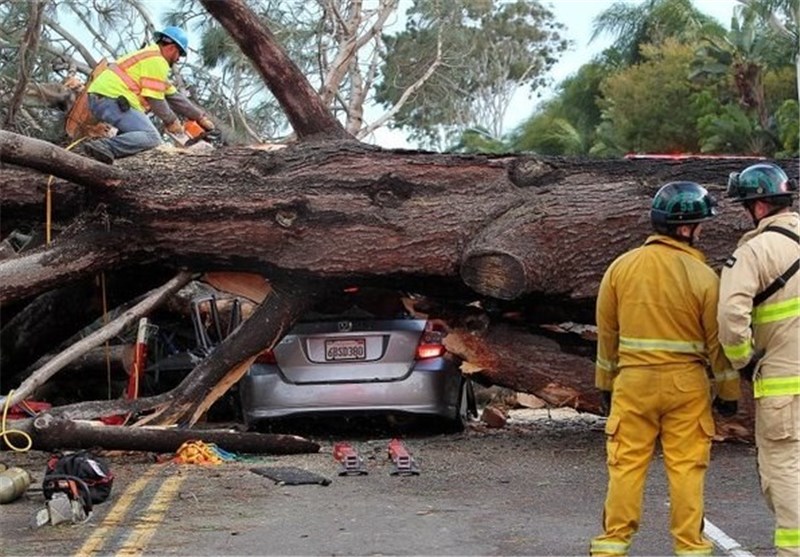 The driver was passing by a residential street in Pacific Beach when a large oak tree fell across a roadway, blocking all four traffic lanes, San Diego Fire and Rescue Capt. Joe Amador said.
The tree, which measured 8 feet in diameter, also crushed three parked cars that were not occupied, he said.
"To the people out here dealing with the rain: be careful, drive slowly and arrive alive," Amador said.
Officials warned that the storm is forecast to bring heavy rain and a risk of flash floods, especially in recently burned areas that could see mud flow down hillsides.
The powerful storm brought unusually strong winds of up to 70 mph to Los Angeles and Ventura counties.
Strong winds were expected to cause flight problems at Los Angeles International Airport, and forecasters said there was enough instability aloft that there could be a 36% chance of thunderstorms in parts of the LA area, The Los Angeles Times reported.
"The winds may well turn out to be the defining feature of this system," the National Weather Service said Sunday.
As of 5:30 pm, 41,000 customers of the Los Angeles Department of Water and Power had lost electricity because of downed power lines. The neighborhoods most heavily affected, include East Hollywood, Mid-Wilshire and Palms.
Crews have been working to restore power to those homes and have already done so for more than 8,000 customers since the storm began.